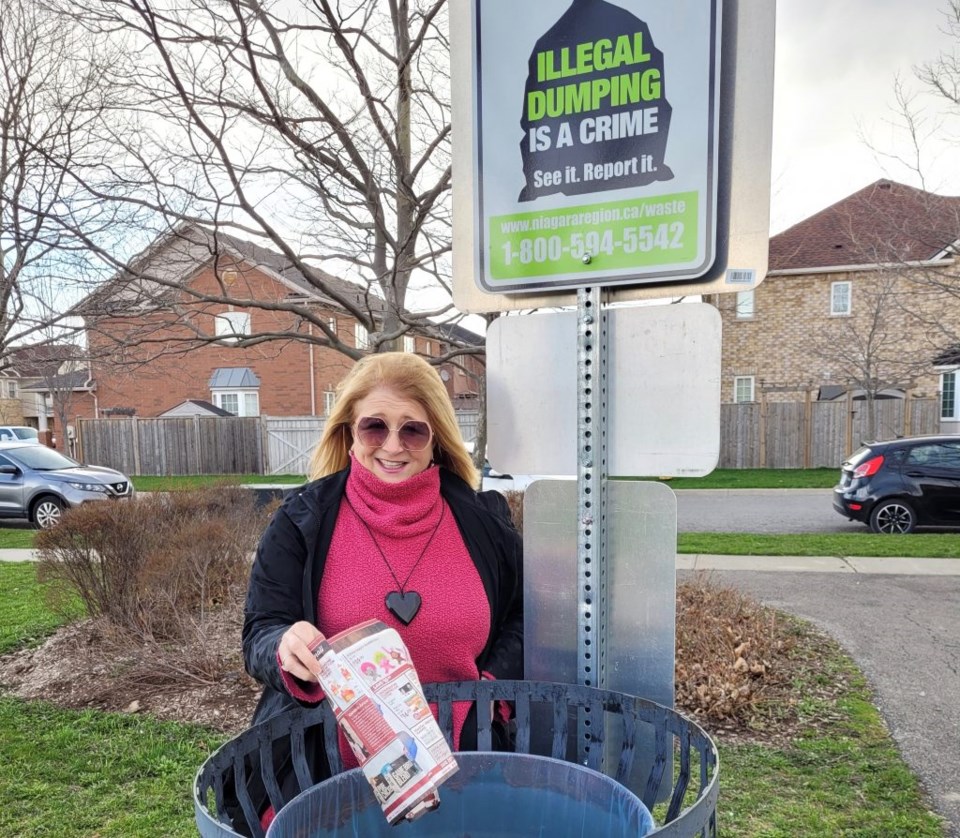 A cleanup through the Niagara-on-the-Green neighbourhood is planned for this Saturday, with help from residents, Niagara College students and student services, Lord Mayor Betty Disero and some town councillors.
Niagara-on-the-Lake Rotary Club members have also offered to help.
The cleanup was intended to be an annual event, organized by Lianne Gagnon, Niagara College director of student services, and resident Steve Hardaker, and was held a few times pre-pandemic but cancelled for the last two years.
"Neighbours were worried about picking up garbage, so we decided not to do it out of respect for them," says Gagnon.
As a member of the Glendale Task Force representing Niagara College, which dealt in part with issues related to college students renting housing in the neighbourhood, Gagnon said originally the cleanup was an opportunity for the college "to demonstrate we're good community members. We did it at the Welland campus as well," she said.
The town's task force was looking at residents' concerns in the area, such as parking problems, noise from students renting houses, and issues with long-term rentals and absentee landlords. But the task force hasn't met for some time, says Gagnon, and she hasn't been able to determine if it has been disbanded, has just chosen not to meet during the pandemic, or if the problems have for the most part been resolved — she's hoping that's the case.
"We have a neighbourhood Facebook page, and we've heard nothing about the task force or about student issues for a long time. As far as I'm concerned, we're just building a good community here," said Gagnon, who is also a Niagara-on-the-Green resident.
Hardaker, who also sits on the task force, said, "it last met in March 2020, just before the COVID-19 pandemic shut all committees down. Shortly afterwards, Coun. Stuart McCormack, who was the chair, resigned his council seat. That left the committee with two vacancies, the other being a resident rep. The town has not acted in filling those two positions. My understanding is that the town is rationalizing all the committees of council."
Being able to again hold the cleanup is a positive step for the neighbourhood, Gagnon said.
"We're just really excited to have students and community members get together to get this done."
Most of the garbage to be picked up has been blown out of recycling boxes by the wind, not from residents or students littering and polluting, she added, suggesting the trend toward putting recycling materials out in clear plastic bags is a good one.
The town is donating garbage bags and gloves for Saturday's cleanup, and is looking after the garbage pickup, she said.
After the two-year pause, Gagnon says she feels really good about "the momentum we've got going," and is looking forward to seeing who comes out to help.
"The cleanup is a day after Earth Day, and it seems a really opportune time to be good stewards of the land, by cleaning up our own backyard."
The Niagara-on-the-Green cleanup is this Saturday, April 23, from 10 a.m, to 12 p.m., to be rescheduled in the case of bad weather, said Gagnon.