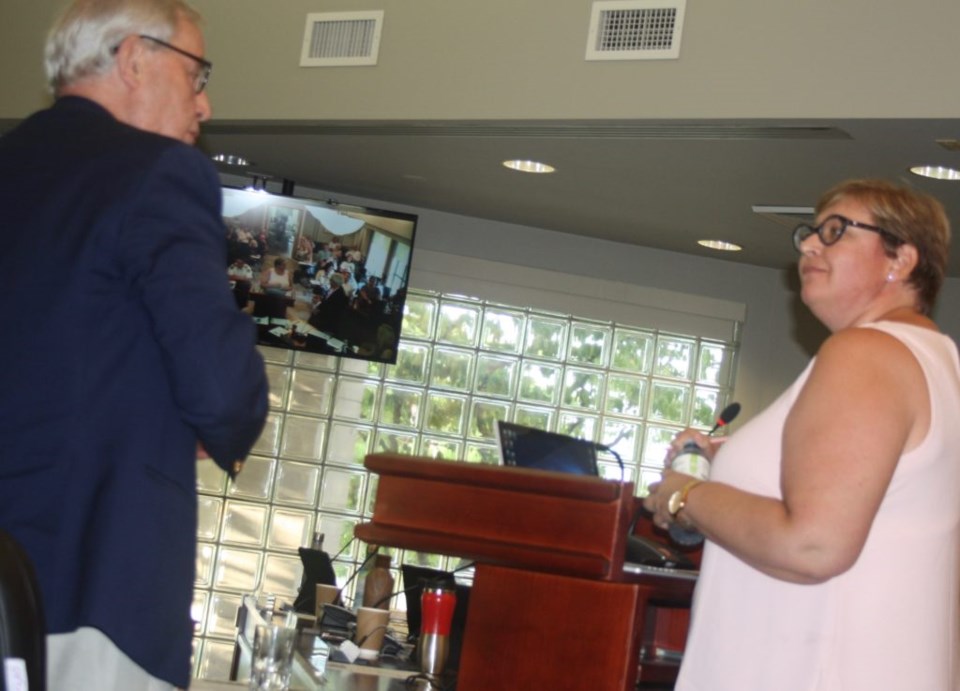 Rezoning to allow the Queenston Mile farm winery to become an estate winery, with the ability to serve food and hold special events, was put on hold until September with a council request to staff for more information Monday.
Councillors, in receipt of an extensive staff report recommending approval of the rezoning, have asked staff to consider requiring the removal of commercial kitchen space, that landscape buffering be added, the driveway from Queenston Road be removed and an entrance from Concession 6 be reviewed. Staff have also been asked to consider removing a "flex space" the owners requested on their site plan, which would give them the ability to use it for special events when needed.
The Town is already past the planning deadline for making a decision on the rezoning, and could end up with the decision being made for them by the Local Planning Appeal Tribunal (LPAT).
Alison Zalepa, general manager of Queenston Mile Winery, says the rezoning application before council was for a small estate winery on a large parcel of land — one that meets municipal, regional, greenbelt, and provincial planning regulations.
The intention is to continue producing about 2,000 cases of wine a year, onsite, and to hold events where food will be served, she said.
"We don't only achieve, we are the poster child for adding value to a farm business. And the town planners agree, which is why they produced an excellent positive report," Zalepa said before Monday's council meeting.
During last week's committee of the whole meeting, councillors recognized if they did not approve the zoning application, they would have to hire outside planners to support their position at an appeal, since they were going against the recommendations of town planning staff.
The talk of the kitchen equipment as proof that a restaurant is intended should be "a non-issue," said Zalepa. "There are already so many wineries with kitchen equipment that do not have restaurants, such as Chateau des Charmes." She assured councillors Monday there is no plan to operate a restaurant at the winery — the kitchen equipment is to allow the winery to pair tastings with food and hold special events, so important to the financial viability of the business.
"The number one industry in Niagara-on-the-Lake is drowning," said Zalepa. Wineries that look profitable are not. They're looking at added-value operations to keep their heads above water, she said, and without the food component, she doesn't see profitability for Queenston Mile.
In response to the argument that wineries pay less taxes compared to other businesses, she said, "we pay farm, business and commercial tax," and have been reassessed an amount that isn't reflected in old tax rolls.
Zalepa said she is frustrated that "naysayers" are spreading and repeating misinformation, she believes because they don't have a planning rationale on which to base their opposition.
At last week's committee of the whole meeting, councillors heard from lawyer Tom Richardson, representing residents and businesses, and a nearby neighbour of the winery that there are concerns of noise and traffic now, which will only worsen if estate winery zoning is allowed.
Queenston Mile representatives went door to door and chatted with neighbours, telling them what the plans for the winery and inviting them to visit and see first-hand, said Zalepa.
She told council she would like to meet with those still opposed to see if they can resolve their differences.
Zalepa says she was taught "we are a stronger industry when we all succeed. I stand behind that philosophy. As an industry we need to be united, more now than ever before."
Queenston Mile is looking to do something different, she said. "We want to use our small footprint to create immersive winery experiences, ones that connect customers to the land. We want to offer the complete wine experience."
Offering the flex space that some councillors are opposed to "isn't wasting prime agricultural land. We are trying to keep our footprint light on our land. And at the same time we are allowing our customers to connect to our place," said Zalepa.
"We believe that what we are doing is right for our business, the community and for the wine and grape industry."
Taxpayers, she said, "lose money when we go to LPAT for the wrong reason. And then taxpayers lose any ability to negotiate with the owner. I would rather work together and collaborate on a solution that works for all parties."
Planner John Hendriks told councillors "planning issues have been lost somewhere in the translation," going through the policies of the Region and the Province that support the value-added components Queenston Mile is requesting.
But lawyer Tom Richardson refuted his interpretation of provincial guidelines, referring to the "large scale" of food service the winery intends, calling it "a restaurant in everything except name."
There was also some discussion about a Cool Climate Chardonnay Celebration event planned at Queenston Mile this weekend, which Richardson said is outside what is allowed at a farm winery, but nobody could say with assurance there wasn't a permit or authority given to allow a special event.
Coun. Wendy Cheropita said last week's discussion seemed more like a trial given the strength of the opposition, but based on the planning issues, she would support the rezoning.
"If we don't approve it, they'll go to LPAT (with an appeal). Do we want that? I don't think we have the strength to support it."
Coun. Erwin Wiens also said he would support it, adding the lack of a decision had gone on far too long, and also expressing his concern about an appeal.
Couns. Norm Arsenault and John Wiens also voted against sending the report back to staff for more information.
Couns. Gary Burroughs, Clare Cameron, Allan Bisback, Stuart McCormack voted in favour of the referral, with Lord Mayor Betty Disero breaking the tie, which leaves Queenston Mile without a decision until September.
Paul Harber of  Ravine Vineyard Estate Winery was not at Monday's meeting, but he was pleased with the result, he said. He had spoken at the committee of the whole meeting, asking councillors to either defer a decision or turn it down. 
He suggested it would be wise to watch Queenston Mile go through the 2019 harvesting season and keep an eye on how much wine is processed onsite, and whether it meets the standards set for a farm winery.
Although Zalepa had argued Monday the information he and Ravine winemaker Martin Werner had presented the previous week was flawed, Harber maintains the Queenston Mile space is not large enough to process even 500 cases of wine.
He agreed there has been a lot of talk about one zoning application for a small winery on a large property, but said council's decision will impact the future of the wine industry and the community.
He'd like to bring in experts in the industry to show how important the ruling will be, he said.
"Council needs to take the time to look at this."