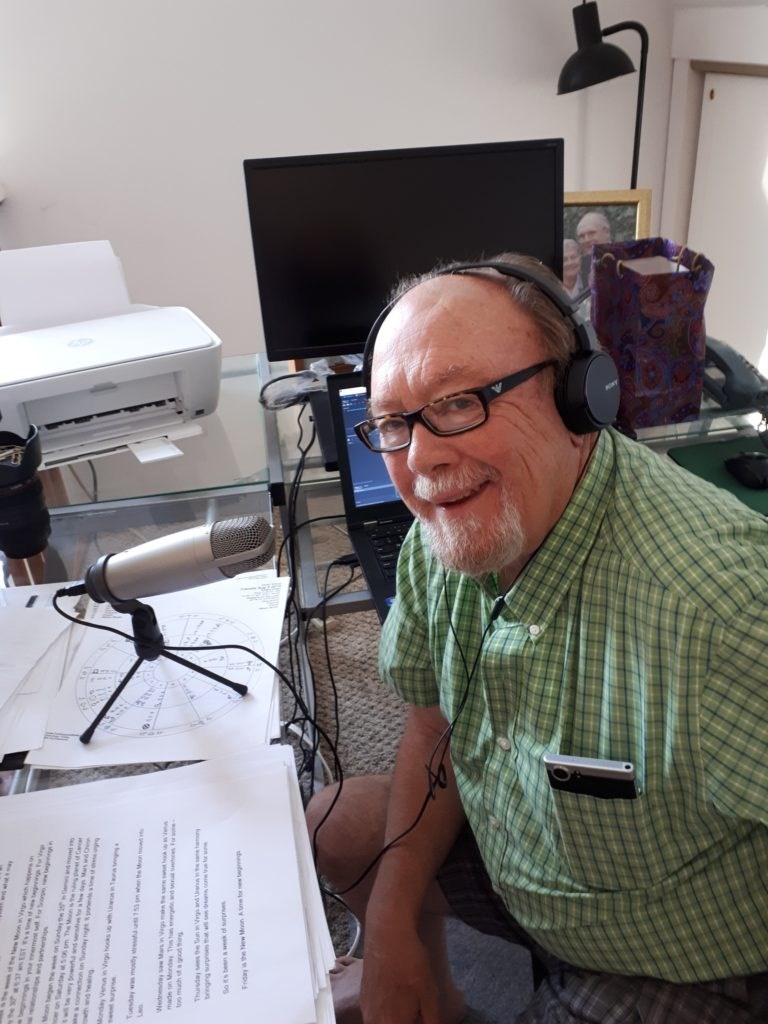 With a radio voice perfectly-suited to a podcast, and after years of studying his favourite subject, Auchterlonie on Astrology was almost inevitable.
Now retired after several careers, most recently as the owner of a Victoria Street gallery of Inuit and Six Nations art, Bill Auchterlonie devotes his spare time researching "what's going on in the skies," an interest that developed when he realized astrology is not only about looking forward, but also looking back.
On his recently-released inaugural podcast, he says he had an interest in "esoteric cultural expression" from an early age.
As a youngster he collected books about ancient sites in Britain, Mexico and North America, books about "arcane kind of stuff I regarded as lost knowledge," he said.
While working in the curatorial department of The Art Gallery of Ontario, he went to Britain and Europe visiting art galleries, and had an opportunity to visit Stonehenge, which is widely regarded as "an astrological edifice," set up so that at a particular point during the winter solstice, the sun comes up precisely between two stones.
It's one of the first dedicated man-made pieces designed to "keep track of the skies above," says Auchterlonie, and that opened his eyes to astrology.
His career in radio began when he was working behind the scenes at CFRB in when he was at York University, studying film, art and film production. After university, and his job with the museum, he went back to radio, this time while hosting a morning radio show in Hamilton. While there, he had as a regular guest well-known astrologer Alex Spraggett, who in reading Auchterlonie's signs, mentioned a near-drowning experience when he was four years old. Spraggett related that to the near-fatal car accident that had left the radio host with a year of healing and physiotherapy when he was in his early 30s.
Auchterlonie knew nothing about a drowning incident, he told the astrologer, who suggested he should ask his mother.
He learned he had nearly drowned at the age of four, although his mother didn't go into details, but gradually, over a period of 11 years, the memory came back. His family was visiting Honey Harbour, and he had slipped off some rocks, and had grabbed a tree branch as he fell. He was in the water, clinging to the branch for dear life, for almost two hours before someone found him.
"I'm a Taurus. We're stubborn," he jokes. "I guess sometimes that can be a good thing."
When he realized Spraggett could read the past through astrology as well as the future, Auchterlonie says, "from then on, I was hooked."
Putting the two near-tragic events together, and wanting to avoid a third situation, he began tracking his astrological chart to ensure he would know when it was time to take extra caution and avoid any activity that would put him in danger.
"It took about a year to figure things out," he says, talking of charts, houses, planets and signs. "I began to read more about how everything fits together."
Astrology isn't his only interest. Time spent on politics behind the scenes, working on campaigns for candidates of all levels of government, led him to run for council in 2014, believing it was time for a new wave of councillors. He was a little ahead of his time, with the majority of councillors re-elected that term. He was also chair of the Town's parking committee, and was an outspoken critic of the expensive pay-and-display system purchased, with meters that often did not work properly and frustrated downtown merchants and visitors.
He still follows town politics, but is no longer involved. He and Heather, whom he met when he moved to Niagara-on-the-Lake about 30 years ago, live on a firelane, on the lake. He loves walking their dog Brooke, a German Shepherd they got from the Welland Humane Society, and he also likes working out astrological charts for people — he wouldn't mind doing that a couple of days a week.
He's also recovering from some serious health issues.
He had a year of radiation and chemotherapy to fight an "insidious" kind of lung cancer while still running the store. Fortunately the tumour was small and found early, he said, but he was left exhausted by the treatment.
Then in January he caught a deadly flu virus during a doctor's visit. He ended up being transported to the hospital by ambulance, where he spent 10 days on life support.
"I'm finally starting to feel healthy for the first time in a couple of years," he says.
And while his health issues could be considered a run of bad luck, "I'd say I've had good luck. I've come out of it."
But to an astrologer, luck is not necessarily the reason he's still here.
He's studied what happened in the last 200 to 300 years, and sees the results of a cycle that began again in 2008.
"It's a repeat of the turbulent times that created the U.S., democracy in France and other places. It's turbulent again today, the way it was then. It isn't exactly the same, but it's the same planet configuration as at that time."
His research leads him to question coincidence.
"Astrology gives you the feeling there is some great mind behind all this. It's not exactly predetermination, but I think there is a lot more to coincidence than we know."