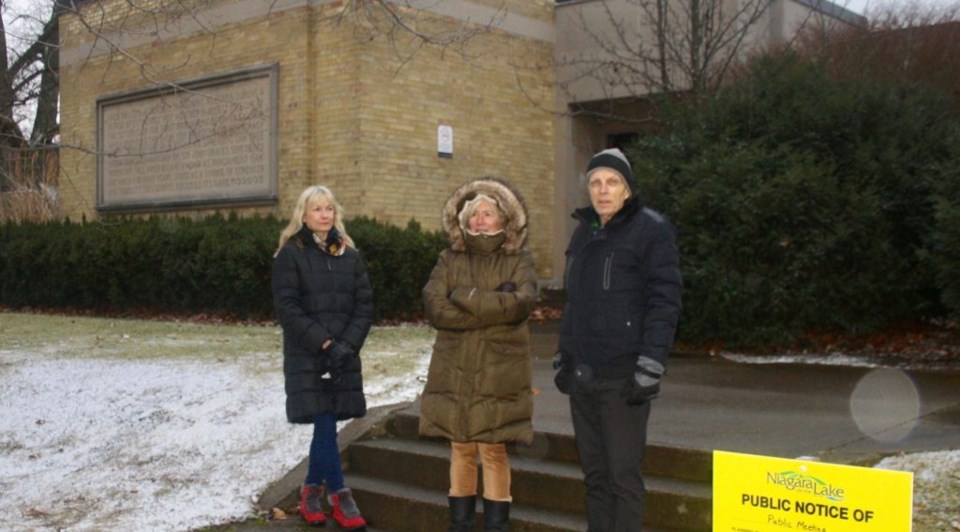 With a second virtual public meeting coming up in January to discuss development plans for the Parliament Oak property, a group of residents wants to ensure their voices are heard, hoping town councillors will step up to protect the iconic historic property in the heart of the Old Town.
In 2018, the District School Board of Niagara sold the 1.6 hectare King Street property to developer Liberty Sites Ltd., following community protests and failed negotiations with the town, which had made several offers to purchase it.
After three years of discussions about possible development of the property, residents got their first look at a proposed subdivision in June, and were vocal with their objections. They had an opportunity to respond to a revised proposal from Liberty, which slightly reduced the density of their proposal, at a November virtual open house, which showed five detached homes, four semi-detached, and 71 apartments.
The concerns voiced at that meeting were that the apartment building is too high, and the project as a whole too dense, and not in character with the neighbourhood. Residents also fear if the proposal is approved, it will set a development precedent for the remaining large parcels of land in the Old Town, such as The Wilderness, another significant historic property nearby.
Since that first open house, Alan Gordon, Marilyn Bartlett and Connie Tintinalli, neighbours of the property, have banded together to establish a platform for those opposed to the development. Called Preserve Our Special Town (POST), they have created a comprehensive website, postofnotl.com, that explains what is planned, and how residents can best voice their objections.
They are encouraging attendance at the Jan. 10 public meeting, and asking for comments to be sent to the planning department and council before the meeting.
"We want as loud a community as possible to voice their opinions to council," says Gordon.
"Our council put in place the tools to control development through our entire town," says Tintinalli. "They already have the tools, now they have to use them to reject this proposal."
In addition to concerns over density, height, and the roads to enter and exit the development, she is concerned about the "architectural language" of the design, which didn't change in the revised proposal, and is out of keeping with the surrounding neighbourhood, she says.
In the first submission, she adds, "the drawings kept showing the height of the building at 11.0 metres, but this was taken from the first storey and not the average grade as per the bylaw definition of height. The proposed bylaw amendment at that time submitted by the developer and architect included a revised definition for height for this property alone. This was an audacious attempt to deceive. If a requirement of zoning cannot be met, relief is asked for - you don't change the definition."
This change in definition was dropped in the second submission, and a height of 12.4 metres (excluding the mechanical penthouse) was indicated in the proposed zoning amendment, says Tintinalli. "This is not shown on the elevations or sections however, the deceptive 11.0 metres remains on the drawings."
They are already getting good traction on their website from others who agree with their concerns, including letters from several people objecting to the development, even one from an out-of-town couple who love to visit.
As well, 33 people have filled out sign-up forms in the first 10 days, says Bartlett, and nobody has commented in favour of the proposal.
With COVID preventing an in-person open house, "our voice is limited," says Gordon. "If we were meeting in person, there would be hundreds of people lined up to speak. We're now generating the momentum of people in town with our website, not just from this neighbourhood, but all over Niagara-
on-the-Lake."
People move to NOTL to get away from the intense development being proposed on King Street, adds Gordon. "This is the complete antithesis of what people come here for."
They are anxious about the town staff recommendation, which is expected to be discussed at the Jan. 10 planning meeting, and how council will proceed.
"We're very nervous," says Gordon. The only "noise" so far is from the town's heritage committee and urban design committee, which have been surprisingly supportive, which is worrying, he says.
"Their response was certainly lame," adds Bartlett. "We just don't know what to expect."
Gordon has prepared a draft of what he plans to say at the public open house, referencing what he calls "the boring details" that may put people to sleep but are also what he hopes will convince council to reject the proposal.
For instance, although it is easy to see the density is much greater than the surrounding area, the numbers show the average density of all blocks surrounding the site is 3.47 units per acre, says Gordon, while the net density of the proposed development is 22 units per acre, the apartment building alone is 27 units per acre, the houses 6.6 units per acre, he says.
The developer is applying for a medium density designation, which has a limit of 12 units per acre, adds Gordon.
"The developer, architect and even planning staff keep referring to this as a 'medium-density' development," says Tintinalli. "Medium-density is six to 12 units per acre, not the 22 to 27 units per acre proposed here. If we hear it often enough, will we believe this to be a medium-density development?"
Gordon also cites the Official Plan addressing intensification, and notes that the Parliament Oak property is not in an area designated for intensification as shown in the Official Plan.
He also cites the considerations for medium density development, and notes the proposal is well in excess of the 10 metre-height permitted, including a portion that includes the mechanical penthouse which is 16.4 metres high when measured from Centre Street.
He notes too that the traffic is directed toward Centre and Gage Streets, both local streets, directly contravening a section of the Official Plan.
The public meeting about this development is scheduled for Monday, Jan. 10, at 6 p.m. POST is asking residents to participate, and if possible register to speak by contacting Colleen Hutt, acting town clerk, at [email protected] or 905-468-3061, ext. 248, as soon as possible, but prior to 12 noon on Monday, Jan 10.
Following registration, you will be provided with instructions to connect to the public meeting on your computer, tablet or telephone.
Written comments may also be submitted via email at [email protected] or by mail to the Town Clerk, 1593 Four Mile Creek Road, PO Box 100, Virgil, ON L0S 1T0. Reference File Nos. OPA-04-2021 and ZBA-08-2021 - 325 King Street, Niagara-on-the-Lake.
Also, residents can join POST's mailing list for updates by emailng: update@
postofnotl.com