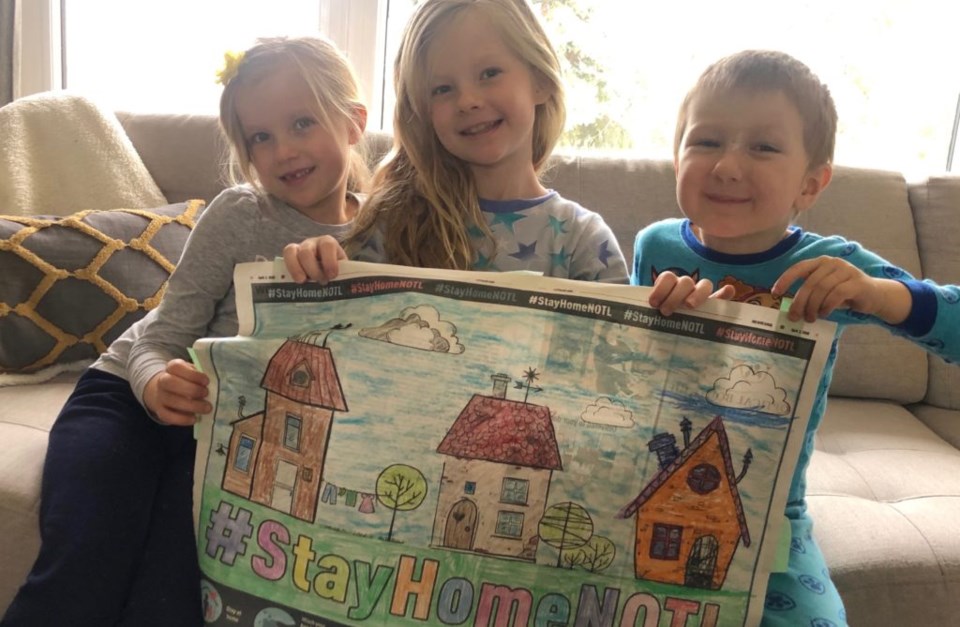 Three kids had three houses to colour.
The Bator siblings enjoyed their colouring activity together, says their mom, Magdalena Bator, as they have most activities so far while they adhere to the #stayhomenotl restrictions, protecting themselves from exposure to COVID-19. But it might not have gone so well if there hadn't been one house for each — the kids are getting along for now, "although the novelty of this may come to an end," she says.
"I really can't complain at all. As terrible as this pandemic is, it's really quieted our lives. The kids are playing well together, they're bonding together. We've been put into this new bubble, but they understand why it's happening. I'm really proud of them."
Bator, a real estate agent, works for Royal LePage in town, which has closed its office.
Realtors are still considered an essential service, says Bator, but it is not business as usual. "We have been told to no longer host open houses and to limit showings to situations where it is absolutely necessary. The safety of our clients is always our top priority, and though it is possible to conduct business via virtual showings and online documentation, we have seen a substantial drop in activity in the market."
However, she adds, "there are still transactions occurring and safety measures must be in place to prevent the spread of COVID-19. In the meantime, I have my days filled with different demands from my children."
Bator's husband Andrew is also working from home, she says, so there are times when the kids need to be quiet or play outside, but they are still having fun playing together in the safety of their backyard. They also go on bike rides on the trails that are still open. "You get the occasional look that says 'what are you doing,' but we're keeping our distance." And the kids, aged eight, six and four, get to burn off some energy, she adds.
"This is a small community, and everywhere we go we see somebody from school, but we keep our distance. We feel guilty being out. It's a very strange feeling, wondering, did we put ourselves in any precarious positions," says Bator. "You know you didn't, but you want to be sure you haven't done anything to risk getting sick."
And the first thing they do when they get home, she says, "is wash our hands."
All three kids are Crossroads Public School students, and Bator only returned to work in September, when her youngest started Junior Kindergarten, so life at home with them is not that different for her.
The kids are asking a few questions, and she gives them some details, "but we're all staying calm. When parents get anxious, they feed off that. But kids are very resilient, if they have a support team that's calm and resilient."
They are each hearing almost daily from their teachers online — the Grade 1 teacher even called.
"That brought a tear to my eye," she says. "I know she (Klaudia) won't be going back to school, and won't be finishing Grade 1 with her teacher. With the Town facilities closed until June 30, I don't think schools will open before then. That's not going to happen," she says.
"I've prepared a place in the house for the kids to do their schoolwork, at least the two girls."
The kids are actually looking forward to have daily activities, which are similar to what they would be doing at school, she says, and especially excited to have their dad home to do school work with them.
The youngest is doing his numbers and letters with his sisters, and having fun doing that. And when they're in the backyard, using their imagination, "they're having fun playing with mud and sticks. They are using their brains in a different way."
Without all the processed snacks Bator would normally buy for school lunch boxes, the kids are also eating better, with fruits and vegetables for snacks instead, she says.
There are no social pressures, no extracurricular pressures, "and we're making the most of it. I really feel very fortunate. This hasn't affected my family very much at all. Not like other families where they are losing their jobs, or have lost their child care," says Bator.
"I'm praying for those families, and hoping this will end soon for those families."