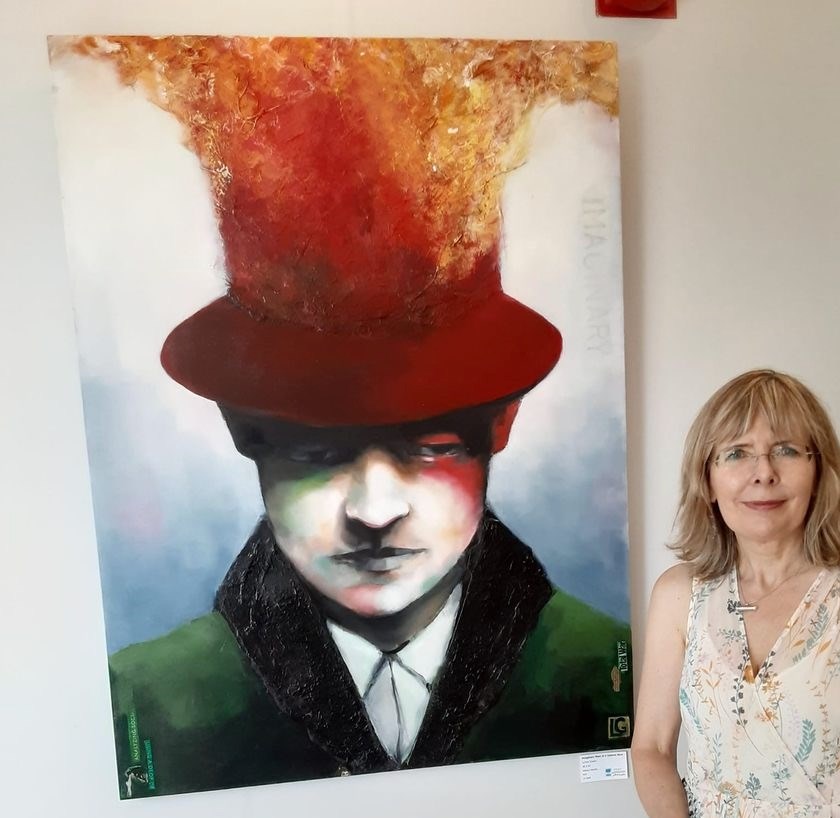 At the Niagara Pumphouse Arts Centre, the work of local artist Lynne Gaetz is being showcased in a solo exhibition this month.
What catches the eye immediately in these paintings are the vibrant colours and the collages. In a closer second look, one is taken aback by images such as faces, heads, antlers, wings, fire, and tall hats. Gaetz says she wants people to view her work and imagine a story. She remarks, "I invite viewers to ask questions".
Many of the paintings on display come from her Human Nature collection. The exhibit is entitled Allegories. The Oxford English Dictionary defines allegory as a piece of art that uses symbols to convey a hidden or ulterior meaning.
Symbols such as horns and antlers can represent many things, something different to each viewer, and she doesn't want to influence the viewer's interpretation by sharing her own. There is complexity in the way her figures interact on the canvas. The words and images, which she finds randomly in magazines, seem to fit right into the collages, and add an extra dimension to the interpretation and meaning. "I want the viewers to have an emotional response to my work," she says.
Integrating mixed media into her work came about by accident, she says. Several years ago, while she was painting a fallen buffalo, she decided to add some torn images and a gold leaf to the horns. This gave an extra measure of interest to the painting, a style she has continued to use.
Art has always been part of her life; she began drawing as a young child, she says. Growing up in Alberta brought the buffalo to her paintings.
Gaetz has a Masters degree in literature, and a minor in art. She worked in the field of writing textbooks, never thinking she would make art her full-time career. She studied at universities in Calgary, Quebec City, Montreal, and an international university in India.
Gaetz travelled to many parts of the world; Kenya, Turkey, Morocco and Chile, sometimes staying a year or two. Having family in Mexico took her there many times. These cultures influenced the use of vivid rich colours in her work.
She is passionate about painting; seldom does a day go by when she is not in her studio. She wants to express truth about human nature in her work, inspiring people to question her work, and their own experiences.
What will you see in the paintings?