NOTE: Ticket sales ended Wednesday, July 27 for the Toronto All-Star Big Band performance and dinner at Club Italia.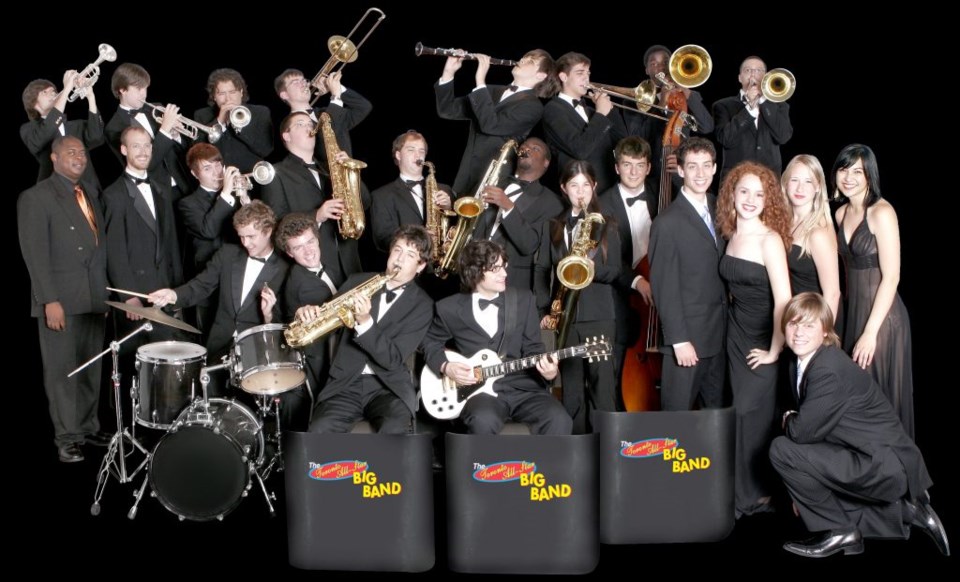 Music Niagara Festival goes from Beethoven to big bands over the August long weekend.
Renowned Portuguese Beethoven scholar Artur Pereira makes his first-ever visit to Niagara for a program entitled A Fresh Look at Beethoven. His performance of some of the German composer's piano sonatas, along with compositions by the late Luiz Costa, also from Portugal, comprise the Sunday, July 31 program at St. Mark's Anglican Church.
Pereira is well-known in classical music circles for his 2020 book Beethoven's Dedications: Stories Behind the Tributes. Over 414 pages, Pereira digs deep into the people to whom the composer dedicated some of his most important works, revealing the motivations behind Beethoven's creative process.
"It started with my PhD studies at the University of Manchester," says Pereira, who is now a member of that university's music faculty. "I've been interested in his dedications for a while. I chose Manchester because one of the world's most renowned Beethoven scholars, Barry Cooper, was there."
Many of Beethoven's works were commissioned by aristocrats of his time, predisposing the composer to dedicate the finished pieces to his sponsors. But that was not always the case.
"His Moonlight Sonata is a good example," Pereira explains. "He was in love with a countess for many years, but she decided to marry someone else. Her mother gave Beethoven a present, which is believed to be money. That was a subtle way of telling him he was a commoner, not good enough for her daughter. He was very angry, and a couple of months later this dedication came about I believe as revenge, not love."
As he deepened his knowledge of Beethoven's biography, Pereira began to also learn more about exactly how the composer himself actually performed his own works.
"I came across so many texts from his contemporaries that spoke of how he used trills, ornaments and the pedal in his performances," says Pereira. "That was a revelation for me. Very often piano sonatas by Beethoven are not played in the style that he used to play them. That motivated me to undertake a project to record the entire Beethoven sonatas adopting this performance style believed to be Beethoven's."
Thus far Pereira has recorded eight of a total of 35 Beethoven sonatas, including three that the composer wrote when he was only 12 years old. Pereira's 2016 album consisted of three of Beethoven's sonatas, while his 2020 release combined Beethoven with works from Costa. Pereira's next album, out this fall, will include three more of Beethoven's sonatas, including one of his earliest compositions.
Pereira added Costa's work to his latest in an attempt to bring one of his favourite Portuguese composers to greater recognition.
"There is absolutely beautiful music by Portuguese composers that is not widely known," he laments. "I consider it almost my duty as I gain more international attention to give some of this music more exposure. And I have a direct connection to Costa, as I was fortunate to have many lessons with his daughter Helena de Sá e Costa."
Pereira will present some of Costa's music during his Music Niagara performance, as well as three of Beethoven's sonatas, including his Spring Sonata, on which he will be joined by Atis Bankas on violin.
The 4 p.m. Sunday performance is dedicated to the memory of another renowned Beethoven scholar, Charles Edward 'Ted' Walden. The author of Beethoven's Immortal Beloved: Solving the Mystery, who lived in Niagara-on-the-Lake, passed away in July, 2020 after a battle with prostate cancer.
On Monday, Aug. 1, the Toronto All-Star Big Band (TABB) takes centre stage at Club Italia for a special Dinner and a Show fundraiser.
Five saxophones, four trombones, four trumpets, piano, bass, drums, and guitar, with five singers rotating through, make up a true big band and a sound that promises to fill the hall.
"In the past we had theatrical-style seating, so we would do some typical dance stuff," TABB artistic director Zygmunt Jedrzejek tells The Local. "Benny Goodman, Artie Shaw, Glen Miller, Tommy Dorsey, some Nelson Riddle arrangements of Sinatra songs. And we'd add some novelty stuff, like Me and My Shadow.
But for the Club Italia show, he's expecting to see people dancing to the music. If that's the case, the setlist may focus more on the numbers that will get people up doing the jive and the Lindy Hop.
Jedrzejek is excited to be bringing such a large number of musicians to Music Niagara after a couple of years being limited to smaller combos.
"Music Niagara was kind enough to invite us to do some Christmas videos the past two years," says a gracious Jedrzejek. "This is going to be our first foray with a big band for Music Niagara since the outbreak of COVID. I'm looking forward to it. People are always responsive and very kind to us."
TABB is a collective of some of the best and brightest musicians in the Greater Toronto Area. Most of the members range in age from between 18 and 22 years old, and typically stay with the group for two to three years as they work on their musical development, often through workshops with some of the finest purveyors of the big band sound.
Most are graduates or current students in post-secondary music programs who audition to earn their spot in the lineup. Each year new members find their way into the big band to replace those who leave to pursue other musical avenues.
"That's where the rehearsals come in," Jedrzejek says. "People may not always remember our individual musicians, but they do remember the Toronto All-Star Big Band. So there is a consistency that has to remain pretty high as that's what people expect."
It's been a busy summer for the first time since 2019 for Jedrzejek and the band. They recently played three nights in a row at Toronto's Beaches Jazz Festival and were in the region last Sunday for an event at Crystal Beach. This week will see them in Wasaga Beach, Toronto's Cabbagetown, Bowmanville and Parry Sound all before their Monday Music Niagara performance.
That should put them in fine form to play a truly swinging set Monday night. Tickets for that show are $115 and include a family-style Italian dinner. They are on sale until late evening Wednesday, July 27 as final numbers for the dinner must be submitted to Club Italia the following morning.
Tickets for Pereira's Sunday performance are $40. Visit musicniagara.org for information on both events.