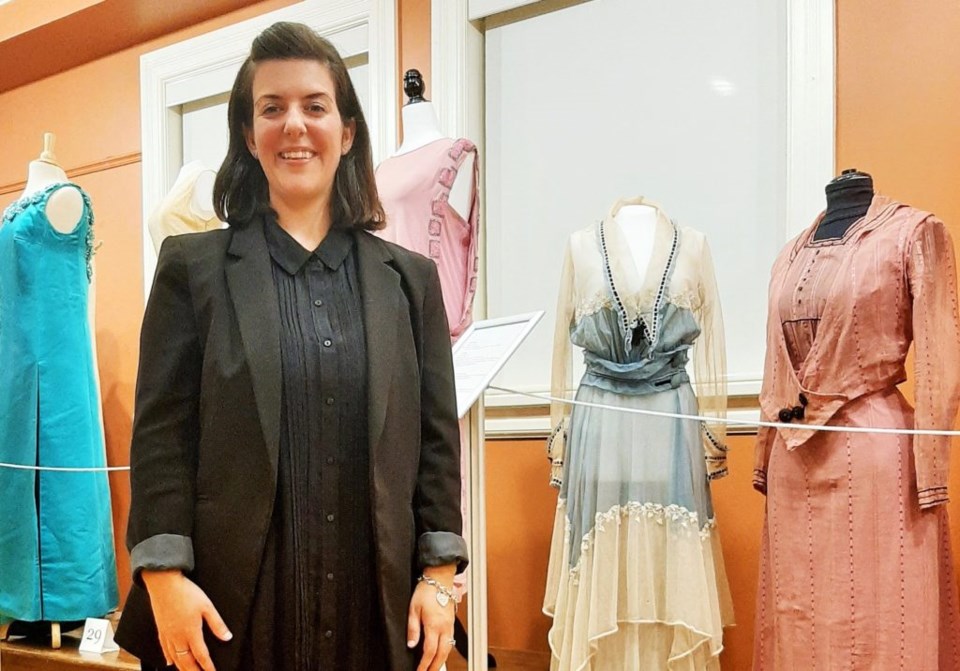 How did the simple T-shirt progress from being hidden away under clothes, to becoming a walking billboard, advertising everything from political views, business logos, rock bands, designer names and vacation spots?
Last Thursday that question was answered by Sonya Marie de Lazzer, in the final lecture of the Art and Fashions series at the Niagara Historical Society & Museum.
In Bring me back a t-shirt: The History of the T-Shirt and its Role in Fashioning the Tourist Landscape, de Lazzer, programming and curatorial assistant at the RiverBrink Art Museum in Queenston, delivered an informative and entertaining lecture on the history of the most ubiquitous garment in your closet: the T-shirt.
She highlights how the T-shirt transformed from being an undergarment previous to the 1920s, into becoming a promotional medium in 1948, when Thomas E. Dewey promoted himself as a presidential candidate on a T-shirt with the slogan "Dew it with Dewey."
Shortly after in the 1950s, Marlon Brando and James Dean sported plain white T-shirts, officially connecting this garment to a rebellious persona.
By the 1970s, the T-shirt became a blank slate for messages because of advances in silk screen printing, which made it easy, fast and inexpensive to produce T-shirts that could be personalized.
De Lazzer is most interested in the role of the T-shirt as fashion for the tourist landscape.
As a souvenir, she explains how a T-shirt is easy to carry, practical and a "product of the industry of memories." The T-shirt becomes "walking graffiti," tied to the cultural and geographic significance of an area or vacation spot.
It becomes tangible proof of having visited a specific place, novelty items and impulse souvenirs that display a quality or trait of a geographic place.
She points out how we tend not to share other types of souvenirs, such as photos or trinkets, but by wearing our souvenir T-shirt, we share our vacation with the outside world. She concludes that "the importance and influence of tourist T-shirts extend far beyond that of a mere souvenir or garment, in that they prolong the tourist experience in various shapes and forms."
After the lecture, de Lazzer explained that when Amy Klassen, museum society administrator, asked her to prepare a lecture for the series, she was very glad to contribute.
As an art historian with a specialty in Niagara Falls' visual culture and history, it was clear de Lazzer enjoyed the opportunity to connect her research with fashion.
This lecture provided her with a fresh way to look at our connection to the tourist landscape through purchasing and wearing a souvenir T-shirt, she said. She confessed that this is the "fun side of research," as she has learned a lot more about the T-shirt.
Doing the lecture, she said, was a fun experience overall, adding it's "great to be researching and living in Niagara."
In addition to being the programming and curatorial assistant at RiverBrink, de Lazzer, holds a Master of Arts (Art History) from the State University of New York at Buffalo, and is currently completing her PhD in Art and Visual Culture from the University of Western Ontario.
She is also an adjunct instructor in the department of art history and museum studies at Niagara University in Lewiston, NY, as well as a registered yoga instructor.
Although de Lazzer's lecture marks the end of the Art & Fashion Lecture Series, a new series will start up again in January 2020.
Tickets are $10 for the general public while Niagara Historical Society members enjoy free admission.
In the meantime, the Head to Toe exhibit currently has on display original clothing from the late 18th to mid-20th century, including some beautiful specimens of vintage dresses, hats, corsets and accessories.
This exhibit will continue to run until Oct. 31.
Unfortunately, no T-shirts are on display but you can always wear your favourite kitschy souvenir T-shirt when you visit. De Lazzer would appreciate the gesture.