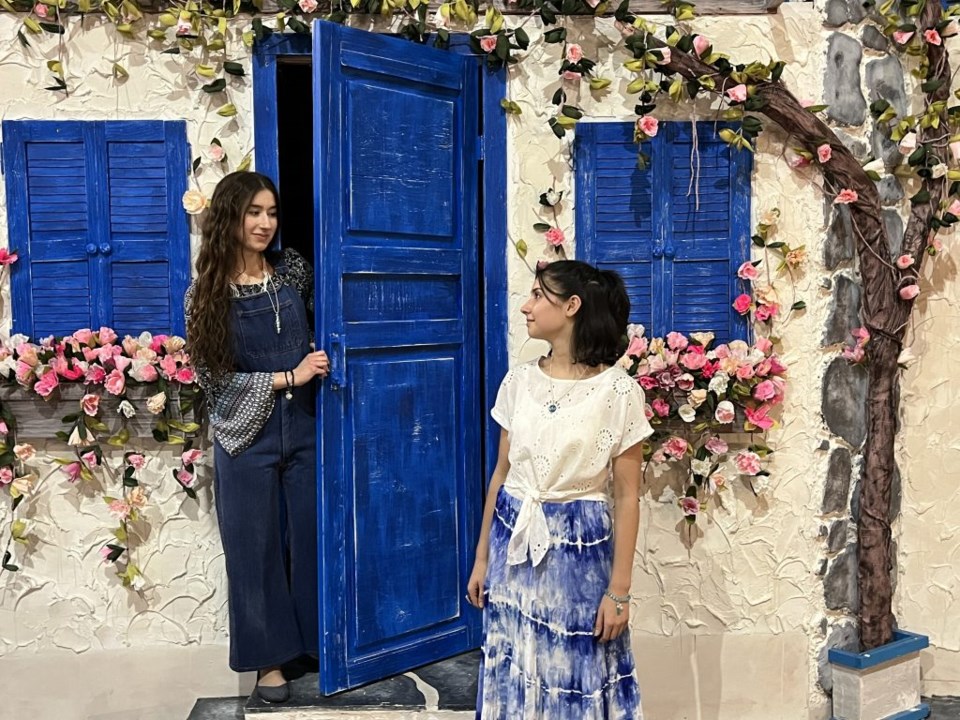 You might say Hannah Jamal is getting a bit of a promotion, from older sister to mother, in the upcoming Laura Secord Secondary School production of the musical Mamma Mia!.
Jamal plays Donna, the former singer, now a taverna owner on the fictional Greek island of Kalokairi. Donna is preparing to host the wedding of her daughter, Sophie, played by none other than Hannah's younger sister, Ayla Jamal.
"It's awesome," Hannah enthuses about playing her younger sister's mother. "We have such great mother-daughter chemistry on stage because we can draw from personal experiences from living in the same household. And it helps that I am the older sister. I've always had a bit of a maternal reaction to her in many ways. We are able to channel those experiences."
"Hannah and I are best friends," Ayla adds. "We've been performing together since I was 10 years old. Working with her is always an awesome time. We're super close, and getting to work with her again after COVID has brought us even closer."
Though neither of the St. David's Public School graduates think they look that much alike, they certainly sell the mother-daughter similarities better than Meryl Streep and Amanda Seyfried did in the popular 2008 film version of the jukebox musical based on the songs of the chart-topping Swedish pop group ABBA.
"In real life, most people say they would never guess we were sisters," Hannah laughs. "They don't see it in our looks. But as soon as people hear us talk and see us interact, they know there is definitely something there."
Both Hannah and Ayla have been involved in theatre since their pre-teen years. Hannah's first production was at the Toronto Fringe Festival at 11 years old. She then auditioned at Niagara-on-the-Lake's Yellow Door Theatre Project (YDTP), where she was cast for their production of Peter Pan. She also worked with a group called the Chippawa Players.
Ayla, inspired by her older sibling, followed to YDTP.
"In third grade I was a swimmer, and I cycled through hobbies a lot," says the 16-year-old grade 10 honours student at Laura Secord. "When Hannah started at Yellow Door, I wanted to do it as well. The next year I auditioned and I really fell in love with it."
Between the two of them, they've acted and sang in ten YDTP productions, and both appeared in the recent film Red Letter Day, which was shot last summer and had its premiere at the First Ontario Performing Arts Centre's Film House last month.
Both girls credit YDTP founder and artistic director Andorlie Hillstrom for their growth in theatre. Hillstron has worked with the Jamal sisters in private lessons, and has also directed much of their work on stage over the years.
"They are both incredibly talented, very, very strong vocalists," Hillstrom tells The Local. "They are intelligent, bright and quick, and poised and mature beyond their years. It's been extraordinary to watch them grow into such wonderful young women."
Hillstrom recognizes the importance of the upcoming two-weekend run of Mamma Mia! both in general and for her two students. The pandemic has meant that it's been more than two years since they have done any live theatre.
Director and Laura Secord Drama department program leader Tracy Thorpe gets tears in her eyes thinking about the May 5 opening night. The play was originally scheduled to open in March 2020. On March 12 that year, just over a week from opening night, the cast and crew had gathered in the school's James H. Smith Theatre for its first dress rehearsal when Thorpe had to break the news to students that their March Break would be extended two weeks, which included three performances of the musical.
The two weeks stretched into three months, and when students returned in September, 2020 for the new school year, Thorpe had received commitment from the entire cast, including many who had by then graduated and moved on to post-secondary studies, to return in May, 2021 for rescheduled dates. By then, another wave of COVID-19 put an end to those plans.
Fast forward to this past September. With thousands of dollars sunk into the set for Mamma Mia!, and those grads now in their second year of college or university, the show had to go on, but with a new cast.
"It's bittersweet," Thorpe says. "It's exciting to get it done, and I love this cast. But I miss the kids who didn't get to do it. You feel a bit bad that we're doing it and they're not here. Many of them have moved on, though some wanted to come back. But then I got word that I couldn't bring outsiders in to rehearse with my students."
The pandemic also forced Thorpe to pare down the cast from its original number to 25 members. The ensemble is much smaller, and she moved some of the background singers off stage to add their vocals sight-unseen.
Now 18 years old, Hannah was in grade 10 two years ago and had won a role in the ensemble. She remembers that 2020 dress rehearsal well.
"It was extremely heartbreaking," she recalls. "It felt very gloomy, and kind of apocalyptic. We were all confused, we didn't really know what was going on. We were about a week away, and all that build-up had amounted to nothing."
Last September's audition won the grade 12 honours student a much bigger role, of course, but like Thorpe, she wishes she could have worked with the original cast.
With a little more than a week now before opening night, cast, crew, and the many student and staff volunteers might be a little shell shocked from the circumstances that have forced the two-year delay for Mamma Mia!. But they are taking it in stride and hoping that everything goes off without a hitch.
Ayla says the cast, including fellow YDTP regulars Sydney Bungard, Catherine Dubois and Emily Fulton, is really hitting its stride and gelling together.
"We've gotten to a place where we are comfortable with one another," Ayla says. "We understand our characters. Just seeing how everyone has grown with their characters, and are comfortable with our characters, I love that part of it."
"There are so many talented people involved in this process," Hannah adds, referring to the students on stage painting rocks for a beach scene. "I don't think it's totally sunk in that it's actually happening. I think back to when I was in grade 8 and I came to see The Addams Family. It made me want to go here, and I wanted to be on this stage singing a solo. And now I'm here, and I'm truly grateful that it's happening."

Laura Secord Secondary School presents Mamma Mia! May 5 through 8 and 12 through 13. Tickets are $15 for adults, $12 for students and seniors. Visit laurasecord.org for information.