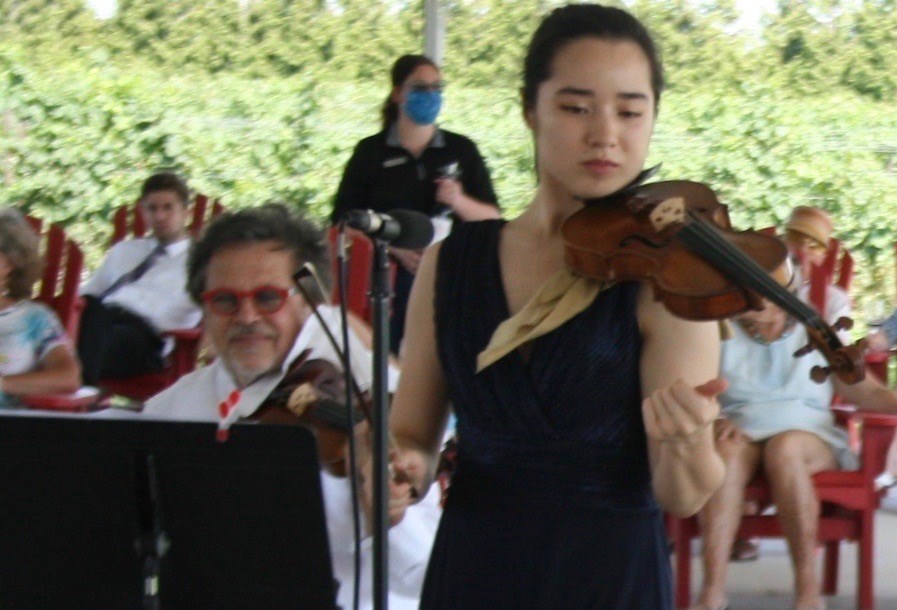 Looking back at 2020, Music Niagara Festival chair Richard Baker is surprised at how successful the season actually ended up being.
"It was very hard to think of anything useful back in March when this thing hit us," he says, "knowing that the very stuff and substance of music is having people in an enclosed space listening to it."
Working with founder and artistic director Atis Bankas, the board members, volunteers and staff pulled together, and by summer had indeed found a useful way to go forward. Music Niagara's At Home Concert Series kicked off July 26 with Emma Meinrenken from Home, a performance by the young violinist and Music Niagara Performance Academy alumna recorded at her Toronto home.
That began a 2020 season that included a celebration of the 250th anniversary of Beethoven's birth. Along the way it encompassed panel discussions, debates, dramatic performances, comedy, chamber music and jazz, along with the usual top-notch classical concerts for which Music Niagara has become known.
Though at first replacing live performances with computer-generated presentations seemed to Baker to be less than promising, he says the online platform and the revamped website have opened up a world of possibilities for the festival heading into 2021.
"Karen (Lade, general manager) and Atis worked very closely with Niagara College (Broadcasting Faculty and students) and we're very happy that we were able to collaborate with them in the filming," he explains. "All of a sudden we've become more confident in our ability to film and record what ends up becoming very satisfying and professional-looking musical concerts."
"We hardly did any of this in the past," continues Baker. "Now we've done a whole season of it, from solo piano, to duets to larger groups. The collaboration with them on producing content has provided insight into the techniques involved and will facilitate our own production and filming as an addition to live festival output when we resume."
Moving into 2021, Baker promises that even if there is a return to live performance, there will continue to be online content produced for the website. It is clear to all involved that it proved to be an effective year-round platform to expand the festival's presence within the musical world, and to connect with a wider audience.
"Our viewership was higher than the number of tickets we would sell traditionally," Baker enthuses, "suggesting that more people are seeing and hearing what we are doing. I don't think it's a dramatic increase yet, but it's so easy to click in."
In addition to the new partnership with Niagara College, a number of local venues opened their doors to Music Niagara free of charge when it became evident that its traditional venue, St. Mark's Anglican Church, would not be available this season.
"We're very pleased with the new partnerships that have developed through finding new venues for our concerts, and that's going to continue into the future," Baker promises. "We filmed at a couple of wineries (Chateau des Charmes and Pondview Estates), which are wonderful places, and have been very helpful."
He continues, "St. Mark's remains the Carnegie Hall for us. It has such a lovely atmosphere, and tremendous acoustics. For most of our small-scale classical events it's the perfect venue, and we hope to get back there."
The wineries, though, offer an option to accommodate a larger number of guests in 2021.
The Performance Academy continued this summer and Baker, in his first year as chair, says new opportunities arose during the pandemic. "Though it was on a reduced scale, this new medium that we have allows us to continue the instructional and education side of the music better than we could before. Atis and some other musicians have been giving master classes on YouTube and Zoom." He also notes that students from as far away as Mexico were able to participate.
According to the retired lawyer, Music Niagara is doing reasonably well financially, despite having no ticket sales this season. "The major sources of income for us have been government grants, provincial and federal," he tells The Local. "We've had donations from some foundations, and generous support from private donors. That's basically what's gotten us through, and provided us with enough money to afford to do these videos, and pay our musicians and our very small staff."
However, he admits that finances can be a constant challenge. He adds that the generous government support provided during the pandemic may not be available in 2021.
As well, the 2020 Big Night fundraiser was cancelled last June due to the pandemic. As the board looks to next year, they are planning to replace that event with the return of another. "We're planning a COVID-safe golf tournament, which we have done once or twice. It was successful then, so we're hoping to do it again."
Planning has begun for the festival's 23rd season. This year marked Beethoven's anniversary, while 2021 will mark the 265th anniversary of Mozart's birth. "Another king," says Baker. "To have Beethoven followed by Mozart, you've covered 80 per cent of the classical world in many ways. What could be better than emphasizing Mozart's music. We'll certainly be doing that."
With 2021 just around the corner, Baker, Bankas and all involved with Music Niagara will be waiting anxiously for a return to eased conditions, restoring the communal feeling of a concert hall, church or winery tent, with artists and instruments on stage, lights dimmed, light breezes blowing and audiences enraptured in close proximity. Baker promises the festival will continue developing new ways of looking at short-term survival until that day comes.