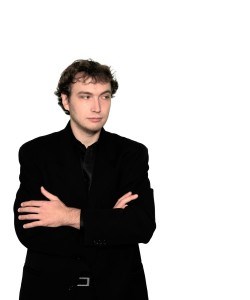 It's hard to believe, but there are only four performances remaining in Music Niagara Festival's 15- show 24th season. 
Colin Maier, Music Niagara's production manager (and oboist of popular chamber group Quartetto Gelato) is pleased with the way music lovers and supporters have returned to the venues that have been hosting the non-profit's program this summer. Two shows this past weekend, featuring pianist Artur Pereira at St. Mark's Anglican Church and the Toronto All-Star Big Band at Club Italia, hosted more than 250 people between them. 
The festival rolls into its final two weeks with a Viennese-style Schubertiade this Sunday afternoon at St. Mark's. Canadian pianist Todd Yaniw will be under the spotlight as the music of the great Franz Schubert is celebrated.  An instructor at the Glenn Gould School at Toronto's Royal Conservatory of Music, Yaniw was born in Edmonton but makes Toronto his home today. He debuted with the Edmonton Symphony Orchestra at age 13 and studied with the likes of Michael Massey, Dr. James Parker, and James Anagnoson. He earned his Masters degree at Houston's Rice University under renowned Canadian pianist Jon Kimura Parker and a PhD from the University of Texas at Austin. 
"All of my teachers shaped my artistic goals," Yaniw tells The Local, "whether it's for me or for my students. As I teach, I always think back to similar moments I had with my own teachers." 
For Schubertiade, he says the key to playing the composer's music this Sunday is to find the uniqueness that shaped Schubert's styles and time period.  "For every composer, I try to get into their shoes," he says, "especially when a certain piece is written at a certain time in a certain city. With Schubert, I think of how he died so tragically young (he was only 31 years old) and actually lived a very hard life. He was a bit of an underdog of his time."
Schubert was a prolific composer in his short life. Because of that, Yaniw says doing his work justice takes a bit of care and thought. "You're sort of celebrating the wide variety of what that one person could actually do," he says. "You have to find pieces that complement each other but still have enough contrast. That's the challenge of programming in general, really."
The idea of a Schubertiade goes back to when the Viennese composer was still alive. These celebrations of his music began around 1815 in the private homes of wealthy friends and admirers of Schubert's music. Many held before Schubert's death in 1828 included the composer himself as a participant, but that wasn't always the case.  "It's in the tradition of those events," Yaniw says of Sunday's performance. "But it's of course in a bigger space, and we get to share it with more people. And it's not so much aimed at the upper class as those were, but instead at everyone."
Yaniw will play Schubert's sonata commonly known as The Grand Duo with Music Niagara founder and artistic director Atis Banks and his CamerAtis Ensemble. He'll also be performing two of the composer's shorter pieces, called impromptus, to demonstrate how Schubert's work evolved in his later years.  The highlight, promises Yaniw, will be the Trout Quintet, which comprises the post-intermission second half of Sunday's performance. Schubert wrote the piece in 1819 but it wasn't until after his death that it was finally published. It's a particularly expressive composition whose fourth of five movements reprises a theme from one of Schubert's earlier works, Die Forelle, which, translated from German means The Trout.
The Trout Quintet was written for piano, violin, viola, cello, and double bass, as opposed to the usual piano and traditional string quartet.  Yaniw says since his start as an instructor at the Conservatory in 2015, he has noticed his mix of coaching versus performing has shifted a bit, leaving him with more time at the school and a bit less time spent performing for audiences. But he gets a similar sense of accomplishment via both avenues.
"It's always satisfying to play something at a high level," he says, "to find something unique that still serves the composer. That's what most of us are trying to get. And for teaching, seeing that a student has begun to do something in their own way, that it really clicks in a self-sufficient way, that is really satisfying."
A member of Trio d'Argento (with Sibylle Marquardt on flute and cellist Paul Pulford), Yaniw says he has visited Niagara Falls a couple of times but has never made his way to Niagara-on-the-Lake.  "I'm really looking forward to it," he says.
Tickets are $40 and include wine and snacks at intermission. The performance begins at 4 p.m. Visit musicniagara.org for tickets and information.