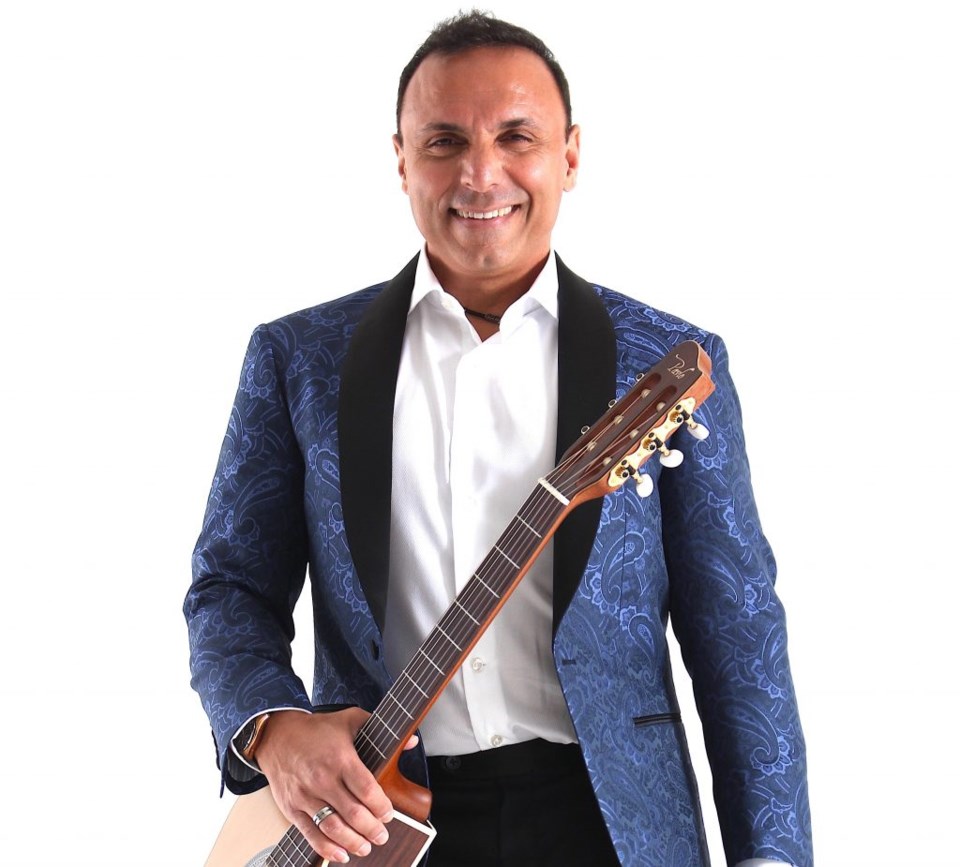 Pavlo Simtikidis estimates he has given away more than 1,500 guitars since beginning his solo career in 1998. It's his way of spreading the love he's felt for the instrument since his days as a 10-year-old in Toronto, when he first began to play.
One lucky local fan may leave the FirstOntario Performing Arts Centre after Pavlo's Home for the Holidays Dec. 16 Bravo Niagara!
performance with the very same Pavlo Signature Series guitar played that night by the masterful picker. Each giveaway is valued at $850, and made by Canadian manufacturer Godin.
"I never need a string sponsor," laughs the 52-year-old from the Florida home he shares with his wife Sandra and their daughters Dimitra and Viola. "I never change my strings. I play a new guitar every night."
Known for his melding of Greek, Spanish and Latin music with pop sensibilities, a style that has become known as the Mediterranean sound, he originally gave away Yamaha guitars, until Robert Godin introduced himself following a Pavlo concert in Quebec. Godin offered to help the guitarist inspire others with an original, homegrown Pavlo-designed luthier creation.
"I always made a pact to myself that if I had any kind of success, I would try to give back, try to help in my own humble way," Pavlo explains. "One of those dreams was to give away a guitar at my shows. Apparently I'm the only person in the world who's ever done this."
"I call it the gift of music," he continues. "If someone starts playing at the age of eight or 70, or learns a few chords to play for their better half, it makes me feel good. I have people who come back to me and tell me they've been playing ever since they won one of my guitars years ago. It makes me happy."
While growing up with his parents in the Danforth area of Toronto, Pavlo was originally inspired to pick up the instrument after hearing the Beatles. As a teen, he loved the progressive rock stylings of British group Yes and Hamilton-based band Saga, but it was Alex Lifeson of Rush who really caught his attention. A 16-year-old Pavlo and his friends formed a Rush tribute band called YYZ, named after the band's instrumental that immortalized Toronto's international airport code.
But with parents who were both born in Greece, it didn't take long for the music he heard around the house to begin to influence him.
"I developed this real love for flamenco, Latin, and classical guitar," he says. "My mom would have Greek music playing in the house. Slowly, without even knowing, I started to combine all this stuff into my songs. I used to write little fusion songs, and I would stick a little flamenco, or bouzouki in there."
It's not a stretch to hear the influence of Lifeson or Steve Howe of Yes in Pavlo's mostly-instrumental oeuvre. Those guitarists have always been known for introducing classical music elements to rock audiences.
And his 2014 Juno-nominated album Trifecta was a collaboration with Chilean-Canadian guitarist Oscar Lopez and Rik
Emmett, longtime guitarist-vocalist with heavy rock band Triumph. As well, Pavlo has shared the stage with the likes of Kim Mitchell and singer-songwriter Marc Jordan. 
"Most people in my genre sit down to play the nylon string guitar," Pavlo says. "My performance style is almost like a rock band. I stand, I dance, I jump into the audience. I created a sound based on the influences I had growing up. I call it feel-good music. It's about having a good time and being positive."
His 16th album, Santorini, a live recording of a concert on the island located about 200 kilometres from the Greek mainland, is ready to be released. It will also be a PBS TV special. Alongside original compositions that feature his signature sound, the record sees him take on an old Armenian folk song, as well as Bon Jovi's Make a Memory, and the Moody Blues classic, Knights in White Satin.
Though he loves to put his stamp on music written by other artists, Pavlo calls himself first and foremost a songwriter.
"I wrote my first song when I was 12 years old," he tells The Local. "Songwriting is the most important thing that I do in my life, and in my music career."
Some of those Pavlo originals, including The Ambassador from the new album, a song he refers to as the best he's ever written, may make it into the setlist for the Bravo Niagara! performance. It's a given, though, that much of the concert will feature material from his 2013 Christmas-themed release Frostbite - Music for the Holidays.
And to ensure the mood is set perfectly for the season, he'll be accompanied by the 40-member Chorus Niagara Children's Choir, conducted by Amanda Nelli. As well, Luke McMaster, who collaborated with Pavlo as one of 11 guest vocalists on the guitarist's
2019 album Together, will take a guest spotlight to sing
his version of the George Michael/Wham! 1984 song, Last Christmas.
Pavlo loves to have guests on stage with him. Even during non-pandemic times, when he plays between 150 and 200 gigs a year, he makes an effort to feature local artists in every one of his shows. 
"I think we all have a responsibility to help others out," he says. "When someone is trying to make it, all we really want is the opportunity to play in front of people. I think anyone who has any kind of success should always be inviting fellow musicians to the stage to help spread the word. Music is about sharing, camaraderie and making great memories."
On Dec. 16, everyone in the PAC audience will have a new memory to take home. And perhaps that lucky fan who leaves with a new guitar may one day take the same stage with the man who presented it, sharing Pavlo's enthusiasm for the gift of music.
Tickets for Pavlo's Home for the Holidays are $50 and available at bravoniagara.org.
For both the Pavlo show and the Dec. 20 Molly Johnson concert, Bravo Niagara! has partnered with Niagara Airbus to offer a shuttle service. For only $10 per person, ticket holders can purchase a seat on the shuttle which leaves the NOTL community centre at 6:30 pm. After the show, the shuttle will pick up guests from the FirstOntario Performing Arts Centre in St Catharines for the ride back to NOTL. Visit the Bravo Niagara! website or call 289-868-9177 to reserve your spot.