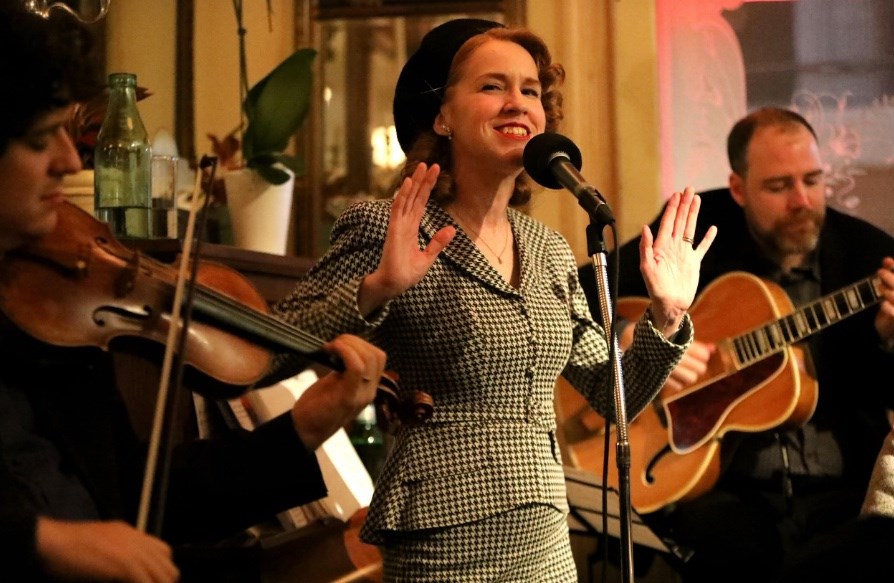 Music Niagara Festival's 24th season continues this Friday with a 4 p.m. performance on the grounds of the beautiful McArthur Estate on John Street East in Niagara-on-the-Lake.
The Sweet Hots turn the clock back to the 1930s for a set of old-time jazz and blues Friday, June 24. The trio features vocalist Alex Pangman with Drew Jurecka on violin and Nathan Hiltz on guitar.
"They're both virtuosic on their instrument," Pangman enthuses about her bandmates. "They're great at what they do and they're also really fond of the music of the 1930s as well. It's a really great partnership."
With her love of what's known as the Great American Songbook, the 45-year-old Pangman has become known as Canada's Sweetheart of Swing. Since her 1999 debut album They Say, produced by the late Jeff Healey, Pangman has released close to 10 albums either under her own name or with her other band, the Alleycats. Each features her take on classics and lesser-
known numbers from the era of the 78 rpm record, as well as her own original compositions.
"The melodies are beautiful," she says of the songs of that decade, "they have a lot of depth to them. Same thing for the lyrics. Irving Berlin, Cole Porter, these are poets set to music that you can dance to. The rhythms, the melodies, the lyrics, I'm drawn to them, they speak to all the human emotions."
Pangman talks of how that music, book-ended by the first and second World Wars, saw people through much adversity during difficult times.
"When COVID hit," she adds, "it was like this music was perfect to soothe our troubled minds, distract our hearts, and give us some joy when sometimes that was hard to find."
Pangman herself is no stranger to adversity. Born with cystic fibrosis, Pangman has undergone two double lung transplants, one in 2008 and another in 2013, shortly after opening for Willie Nelson at Toronto's Massey Hall. She has since become an advocate for organ transplants, crediting her own donors for saving her life twice.
Due to her ongoing immune system issues, the pandemic meant that she has had to keep away from public performance longer than most. She has stayed busy with The Sweet Hots, though, performing regular monthly online concerts for the past 24 months. The outdoor Music Niagara show will be one of Pangman's first in-person performances in almost two years.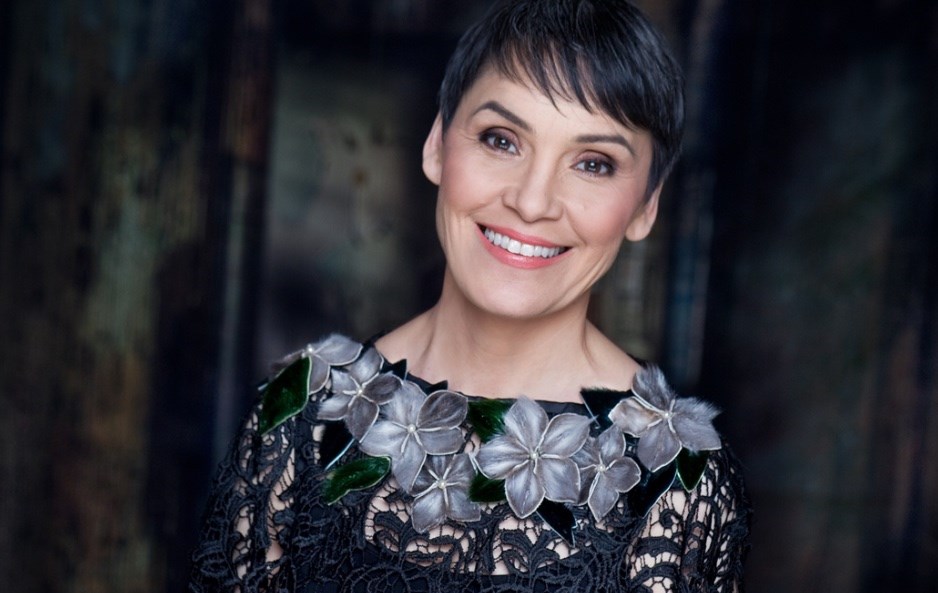 Next week, three-time Juno Award-winning artist Susan Aglukark visits St. Mark's Anglican Church to close out June for a show billed as an Artist Life Stories performance.
Curated and hosted by Cameron Smillie, the Thursday, June 30 Music Niagara Festival event will see Aglukark sharing stories of her upbringing in Nunavut, the abuse she suffered as a young girl, her landmark musical success in the 1990s and her current work with the Arctic Rose Foundation. In between, she'll step to the microphone next to two members of her band to play and sing songs such as Oh Siem and Still Running.
"In the early years, I left home to leave, not to pursue a public life," Aglukark remembers. "I wasn't even a singer or a songwriter."
Then came 1992's Arctic Rose on EMI Records, following her self-released Dreams For You.
"When your major label debut album starts to chart, then hits number one, suddenly you are headlining. It was a lot of playing catch-up."
Aglukark says she was in a state of 'ilira', the Inuit word for emotional fear. She was always deferring, waiting for someone to bring her to her next gig. When Oh Siem hit in 1995, her career rocketed into yet another stratosphere.
"There couldn't have been a better song to create, to write, even the video," she says. "Everything about that song set the tone for what would be the last 25 years of my career. I am very proud of it. Every time I sing it it reminds me of that time. It brought calm to me then, and that's what I needed."
Oh Siem topped the Canadian country and adult contemporary charts that year, and made it to number three on the pop top 40. It was the first top-10 hit in Canada for an Inuk performer and acted as the centrepiece of Aglukark's fourth album, This Child, which went triple platinum.
The song's lyrics alternate between English and Inuktitut, and are set to a joyful beat as they protest against racism and prejudice. There's a beauty in Aglukark's message that is underscored by the beauty of the melody. "We are all family", she sings, suggesting that there is room for all cultures and races to understand and love each other.
"Twenty-five years later, so much has changed, but so much has stayed the same," she says of her best-known hit. "When you hear parts of the song, you say 'okay, I get it now, I got it then, and I get it now differently in some ways.' It's a gentle, nudged statement song."
Her life changed in the ensuing years. Five more albums followed between 1999 and 2013, each of them including songs that shed light on the issues facing Canada's Indigenous peoples. In 2005 she was named an Officer in the Order of Canada, and her continued success allowed her to actually do something about those issues.
In 2012, Aglukark started the Arctic Rose Project in an effort to help address hunger, homelessness and the health and wellness of Inuit children and youth. The organization received charitable status in 2016 and became the Arctic Rose Foundation. Its mandate expanded to support Northern Inuit, First Nations and Métis youth, promote emotional and mental wellness, and connect participants with their culture through arts-based programming.
This May, Aglukark was the 2022 recipient of the Humanitarian Award presented by Music Canada at the 51st Annual Juno Awards in Toronto. The award recognizes an outstanding Canadian artist or industry leader whose humanitarian contributions have positively enhanced the social fabric of Canada and beyond. Past winners include Buffy Sainte-Marie, Neil Young, Bryan Adams, Sarah McLachlan, Tom Jackson and Bruce Cockburn.
"It was truly an honour," says Aglukark. "The work we need to do as Indigenous people, especially right now for healing and reconciliation, really has to come from us. When I started working on the Arctic Rose Project, we were drawing from our lives as we were healing them. The work we do is about emotional health, so that they are less afraid to pursue success in their lives."
She says she was at first reluctant to accept the award, but came around after realizing that it was an opportunity to share the award with and to introduce the team that is doing the work. Youth involved with Arctic Rose were invited to the Junos to share in Aglukark's recognition.
The June 30 performance will see Aglukark talking with Smillie about Arctic Rose and many other experiences and occurrences during her 30-year career.
"He touches on the early years of my career," she says, "and he talks about the transition. We'll look at what I've learned as an artist, and even the business side of music. The songwriting, the stories and the culture, too. And we give time to why healing must come before or alongside the reconciliation conversation."
And in between the topics, she'll take the microphone to sing some of her hits, including one or two from her new album The Crossing, her 10th, released this past April.
"We'll take questions from the audience, too," adds Aglukark, who has done these Artist Life Stories shows about six times with Smillie. "A lot of the questions centre on what non-Indigenous people can do to support and acknowledge reconciliation."
"We walk this journey together," she concludes. "We have to change the lens through which we view those generations of Indigenous people. We all have to start on the same page. We don't know what that page is yet, but we have to correct the narrative. We are all correcting it, and healing from this."
Tickets for both Alex Pangman and the Hot Sweets (June 24, 4 p.m.) and Susan Aglukark's Artist Life Stories performance (June 30, 8 p.m.) are available at musicniagara.org.