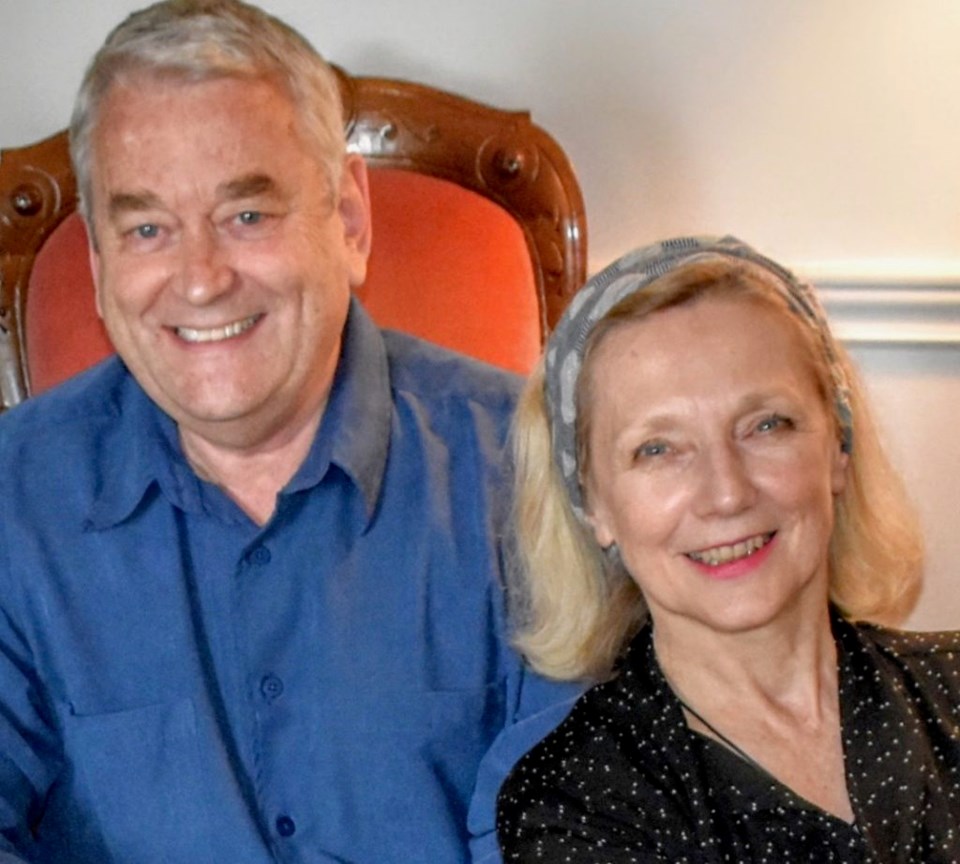 As Sharry Flett and Anthony Bekenn look forward to their participation in the Foster Festival's virtual production of The Christmas Tree, a holiday favourite, they can't help but feel fortunate at the rare opportunity to perform during a pandemic.
Like so much else about life during COVID, last week the production organizers had to quickly pivot from planned performances before live audiences, paired with a meal at a local restaurant, to virtual readings, but they have found a way to make the most of it.
Artistic producer Emily Oriold says they initially felt comfortable calling on acting couples, such as Flett and Bekenn, knowing they would be safe working together.
When asked, Flett and Bekenn jumped at the chance to perform again in front of a live audience.
The acting couple put down roots in Niagara-on-the-Lake about 30 years ago, loving their Chautauqua community, where they raised their daughter Michaela and enjoyed regular work with the Shaw Festival Theatre.
They are now at a stage of their lives where they can balance aging while still working, says Flett.
But as actors, working during a pandemic has been a challenge.
They want to keep doing the work they love, but finding projects is difficult, with so much shutting down because of COVID-19.
"We live in this beautiful town, and have the most enjoyable lifestyle," says Bekenn, also agreeing they are fortunate to be going through the pandemic at this stage of their lives, as opposed to the young people just graduating from theatre schools, one moment "laughing and carefree, bursting with energy, enthusiasm and optimism," says Flett, but now wondering what lies ahead.
"I fear for them," she adds. Even part-time or day jobs, which most young actors rely on, often in the hospitality industry, have dried up.
Flett was looking forward to next season, expecting to be back on stage with the Shaw Festival, but that changed when all 2020 performances were cancelled, and the plan for next year became about resurrecting this year's playbill.
With theatres closed and little work to be had this summer, the couple took up gardening, says Bekenn, which would have been "unheard of" in past seasons, when they had a list of projects they wanted to tackle, but never enough time.
This summer, they finally managed to lay down flagstone and plant trees, big projects they have put off doing for years, he says.
"We've also raked 120 bags of leaves," adds Flett, who is also involved in the Chautauqua tree project, helping to restore the canopy that's been lost.
"We love the area," says Bekenn, pointing out there is an actors' community within the tight-knit Chautauqua community, and many interesting neighbours they've gotten to know.
They both recall with fondness the many good years and great plays they've been part of with the Shaw Festival, and the people they've had the pleasure of working alongside, including "too many now gone," says Flett.
Her first Shaw performance was in 1988, appearing in about 50 plays since then. Both were invited to join the festival by former artistic director Christopher Newton, Bekenn in 1993, with more than 35 productions between then and his last, the 2013 season.
There have been other great opportunities for both, allowing them to "put together a good livelihood," says Bekenn, with the Shaw, work with other theatre companies and in TV. Flett has taught at the University of Guelph and the University of Toronto theatre programs, and continues to teach drama at George Brown Theatre School in Toronto.
With the establishment of the Foster Festival in St. Catharines, new opportunities have opened up locally for actors, including several from NOTL with Shaw backgrounds.
Bekenn says he was offered a show in its first season, but had to turn it down. He was dealing with some health issues that would have made the physical requirements of performing a Foster farce difficult, he says.
Flett was "close to doing one this past summer," and had decided not to, when COVID-19 shut down the season. They both hope there will be other opportunities with the festival in the future. But for now, they're excited about the Foster Festival's upcoming Christmas offering, which is providing opportunities for 12 local acting couples.
Foster's "handle on dialogue is superb," says Bekenn, "and there is a wonderful balance between humour and pathos which he gives his characters. He really understands humanity, and his plays are great fun to watch."
They describe Foster as a delightful man, quiet and down to earth, whose scripts reflect his own love of the human character.
His plays are fast-moving, with lots of dialogue — and not the easiest to learn — sounding very conversational although very structured, says Bekenn.
When The Christmas Tree readings were first planned, the couple pictured themselves sitting in a restaurant, with props, and a live audience, which they point out can be very important to the actors, especially in a comedy.
"When we first heard about this, we said, wonderful, great, we can do something again," and jumped at performing before an audience, says Bekenn.
Of course, there isn't much this year that has gone according to plan, and the performances of Norm Foster's one-act holiday play definitely fall into that category.
These days, organizers of public events are
accustomed to quickly revising plans in response to
changing regulations, and the Foster Festival is no exception. The public readings were intended to be staged at venues across the region, mostly at restaurants, with a lunch or dinner included. The initiative was geared to combining an outing with a meal and entertainment, not only attracting a live audience for actors, but helping local restaurants as well, while giving people a fun, uplifting and safe event to help put them in the holiday spirit.
"We've really had to be flexible," says Oriold. "This idea was borne out of wanting to get as many actors back to work as possible, in a safe way, while supporting local businesses, and giving everyone a sense of normalcy."
The actors, many of them Shaw Festival veterans, are couples who have been quarantining together, making it safe for them to perform together, with venues following all safety restrictions for the audience, says Oriold.
When she first began making a list of possible couples, "we were really surprised how many wonderful artistic couples there are in the region. It was quite a delightful surprise, and we were so happy when all agreed very quickly to be part of this."
Along with her actor husband, Darren Keay, Oriold is delighted to get back to her love of the stage and will do one of the readings.
"When I originally founded the Foster Festival, my job was administrative, but I missed my artistic self. Acting is fun, and it's exciting that I'm able to do this small thing with the company. It's exciting and fun for us to work together."
With climbing numbers of COVID cases, and the tightening of restrictions to one household per table, they just couldn't come up with a floor plan that would work, says Oriold. "Everyone who has already purchased tickets will get to experience the play online, with Foster Festival elves delivering holiday cheer to their home," she says.
They are focusing on the positives with the change in plans — without the physical restrictions in play, they can sell more tickets, they can tailor them to one, two, three meals or more, restaurants will sell more meals and larger audiences will enjoy the readings, she says.
First produced in 2008, The Christmas Tree is a one-act play, with one man and one woman, who meet on a tree lot. And there is just one tree.
In true Foster fashion, the story offers heartache and humour, and in this case, of course, the Christmas spirit.
The man and woman each plead their case as to why they should go home with the tree, explains Oriold. "There are quick lines and great conversation between them, and listening to them is what makes this production so much fun."
Without giving away the ending, she promises, "nobody will go home sad."
In a mix of matinees and evening performances, the opening show is Dec. 4 with a live performance at the FirstOntario Performing Arts Centre, and no meal, all safety regulations being observed, and theatre patrons spaced out. Featuring Marla McLean and Graeme Somerville, it is sold out.
Other performances provide an option for the virtual reading with or without a meal, and star Gabrielle Jones and Peter Millard Dec. 5 (2 p.m.); Tara Rosling and Patrick McManus Dec. 5 (7:30 p.m.); Catherine McGregor and Jim Mezon Dec. 6 (2 p.m. and 7:30 p.m.); Mary Long and Sandy Crawley Dec. 10 (7:30 p.m.); Nicole Joy-Fraser and Jason Chesworth Dec. 11 (7:30 p.m.); Stephanie Jones and Jason Cadieux Dec. 12 (7:30 p.m.); Chick Reid and Tom McCamus Dec. 13 (2 p.m.); Emily Oriold and Darren Keay Dec. 17 (7:30 p.m.); Sharry Flett and Anthony Bekenn Dec. 18 (7:30 p.m.) and Cosette Derome and Kelly Wong Dec. 19 (7:30 p.m.).