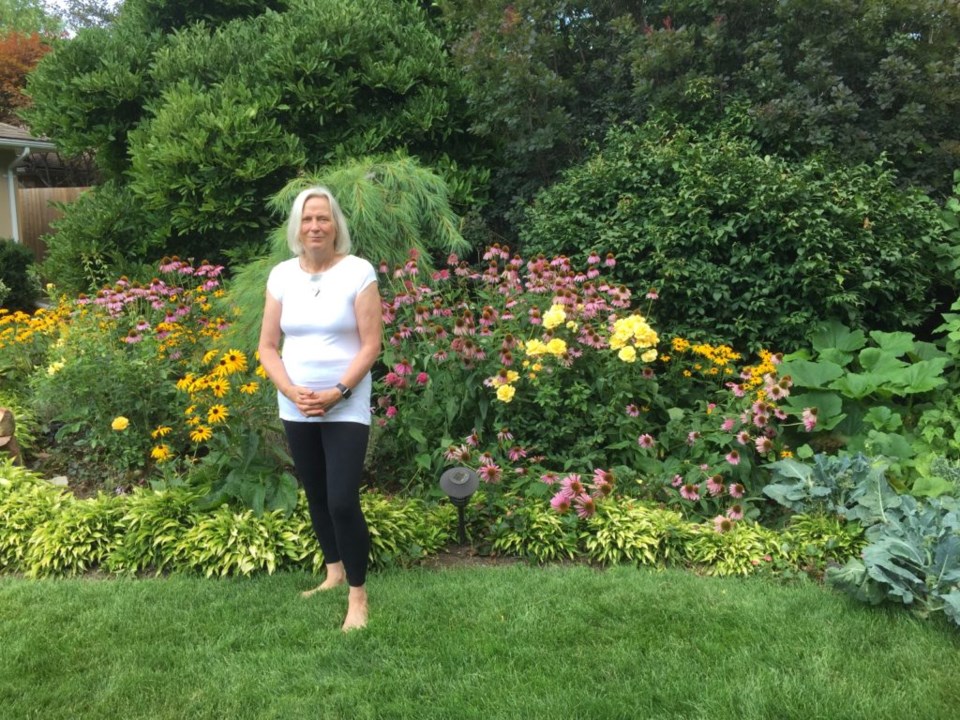 In Debi Goodwin's backyard garden, garlic, tomatoes, kale and beans find space next to roses, hydrangea, sedum, rhododendron and lilies.
There are many trees providing just enough shade, including her three beautiful seven-son flower trees, which bloom in late summer.
It is a beautiful backyard oasis in Niagara-on-the-Lake's Old Town, that played host to her August, 2016 wedding to her long-time partner, Peter Kavanagh.
Goodwin has documented the creation of that garden, and her life with Kavanagh, in a new memoir, A Victory Garden for Trying Times, published by Dundurn Press.
Goodwin will be reading from her memoir this Oct. 9 at Southbrook Vineyards to kick off the NOTL Public Library's annual Wine and Words series.
During the First and Second World Wars, the government of Canada encouraged residents to use their backyard spaces to plant vegetables for personal use and to support the war effort. Originally referred to as "war gardens," they became known as "victory gardens," promoted by the Ministry of Agriculture as a "patriotic form of wholesome leisure," according to the Canadian Encyclopedia. It became a way for those back home to help fight against the "unknown" enemy.
In November, 2015, Kavanagh was diagnosed with esophageal cancer. Goodwin, of course, was shattered by this diagnosis. Alongside him through his cancer treatments, she realized she needed a project to cope with her own fears. She came across the concept of the victory garden.
Inspired by this phenomenon, Goodwin threw her efforts into creating her own version of a victory garden. She began to plan out her garden during the winter Kavanagh would start undergoing treatments. It was her hope the creation of the garden would mark her husband's victory against the unknown enemy, cancer.
Weakened by the cancer, however, Kavanagh suffered a fatal heart attack in early September, 2016, just a month after their wedding.
Goodwin's victory garden still stands today, stunningly beautiful and providing sustenance, as a tribute to the life of the man she loved for more than 30 years.
Debi Goodwin and Peter Kavanagh met while both were working at CBC's The Journal, with Barbara Frum. Goodwin had just gone through a break-up of a previous marriage, and she immediately bonded with Kavanagh, who, having been diagnosed with paralytic poliomyelitis at a young age, had been living with pain his entire life.
It didn't take long before this bond led to a relationship, and, as the two moved into different spheres with the national broadcaster, the bond grew even stronger.
Kavanagh became Peter Gzowski's book editor for his popular Morningside radio program. Among his many accomplishments as a producer was the creation of the Canada Reads competition in 2002. In addition, he published his own memoir, The Man Who Learned to Walk Three Times, about his struggles with polio as a child, having to re-learn to walk again at the age of 12, and then once more at age 60 after surgery to remove a metal plate.
Goodwin, meanwhile, moved on to CBC Newsworld and then became a documentary producer for The National. One of her documentaries resulted in a book, Citizens of Nowhere, about the struggles refugees to Canada face in their first year in a new country. Ten years ago, Goodwin left the CBC to teach English as a Second Language and Advanced English at Sheridan College.
Five years later, the two retired and bought their home in NOTL.
Goodwin grew up in Grimsby, as part of a ninth-generation Niagara family. Her early years were spent on a fruit farm in west Niagara, so she was familiar with the area. Moving to NOTL seemed almost natural, and the home they found had a huge backyard, with two garden sheds and more than enough room for her to scratch her gardening itch.
Living in Toronto for 22 years, she always had a garden of some sort. They lived on what she calls a reverse ravine lot, where she slowly got rid of all of the grass in the front yard and replaced it with a rock garden. In addition, influenced by her father, who grew vegetables for the family, she always found some time and space to grow vegetables.
In contrast, Kavanagh was not a gardener, though he fully supported Goodwin's love of cultivating and beautifying their space.
Those first few years in NOTL were idyllic. That changed, though, when the couple received Kavanagh's cancer diagnosis.
Throughout his struggle with the disease, he encouraged her to continue with her victory garden. Goodwin says even when they discovered his diagnosis was terminal, he told her not to stop with her project.
"He knew how much the garden would help me even after he was gone," she says. "He knew my connection to the cycles of the seasons, he knew all those things about me, like a true partner does."
A Victory Garden for Trying Times, ties those seasons to the couple's fight against Kavanagh's cancer. According to the website of her publisher, that first winter was an anxious one, as she researched and planned. That was followed by spring when, while Kavanagh was in remission, her garden was thriving. "But when Peter's cancer returned like a killing frost, the garden was a reminder that everything must come to an end."
The memoir is very raw, and bares her soul, but Goodwin is glad she wrote it when she did. She says if she had waited 10 years to write it, the memoir would have ended up much more polished.
Having grown up in a small town, she remembers always wanting to get out of that town. "My father was the high school principal," she says. "Everyone knew everything about me, and here I am having written a book all about me."
During the treatments, she wrote down her thoughts and feelings along with a description of everything that happened at every doctor's appointment. The process was difficult, but deeply meaningful.
When she sat down to write it, she says, "it was more about how a caregiver gets through things."
But after he died, she went to India, on a trip that she and Kavanagh had planned together. There she attended a master writing class, where she "realized people would want to learn more about Peter, so in my re-write, it became more of a tribute to his and my life."
Asked if it will be difficult for her to read from this personal memoir to a crowd most likely filled with some familiar faces, she admits she may have a bit of trepidation.
Goodwin believes the memoir, as personal as it may be, will resonate with anyone who has gone through or is going through grief. She says she wrote the book to connect to other people as well as to tell her story. And she is looking forward to connecting to these people on Oct. 9.
In the meantime, she continues to cultivate her victory garden, a beautiful symbol of hope and a poignant reminder of life's cycles. And she continues to harvest the vegetables and share them with others, in a fitting tribute to the man she loved, and continues to love, for more than 30 years.
A Victory Garden for Trying Times will be published by Dundurn Press on Sept. 7. Tickets for Debi Goodwin's Wine and Words session at Southbrook Vineyard can
be purchased at notlpubliclibrary.org.