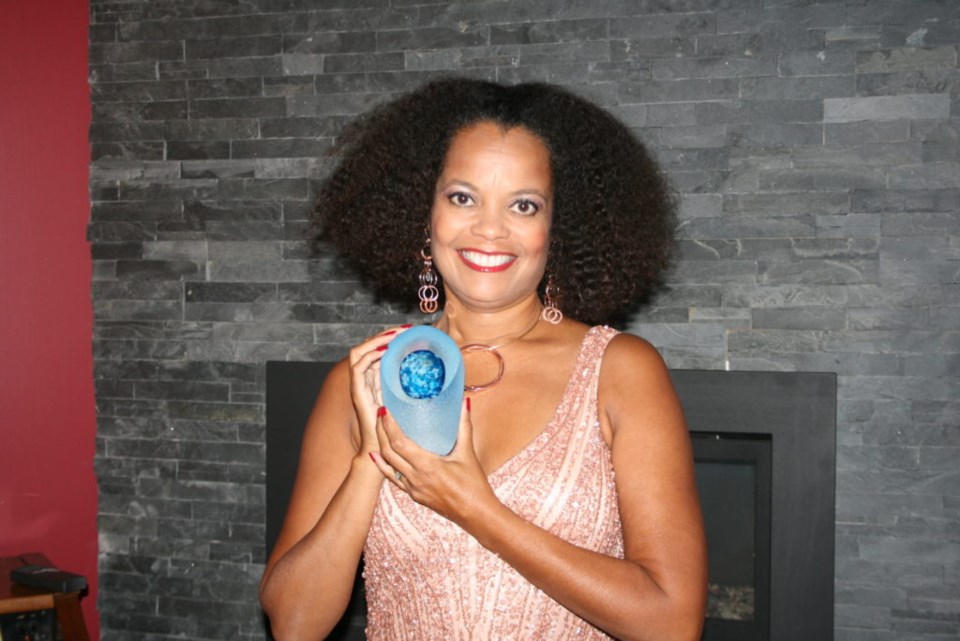 Juliet Dunn was the only winner at this year's St. Catharines Arts Award who was present at Partridge Hall at the First Ontario Performing Arts Centre to actually accept her award.
Dunn and her husband, pianist Peter Shea, were brought in as the musical entertainment for the virtual awards show, streamed live from the St. Catharines location on Oct. 25.
The 2020 Making A Difference award-winner stepped to the microphone, choking back tears of joy and surprise, and immediately began to thank her sponsors and the core group of volunteers who help her keep the TD Niagara Jazz Festival up and running. Having found a way to continue offering a wide array of jazz programming, mostly online, through the pandemic, she said she couldn't possibly overstate the importance of volunteers in getting things off the ground, beginning in March.
Earlier this week, at her north St. Catharines studio, Dunn spoke about feeling overwhelmed by the win. "It was such an honour. It was quite a competitive category (six nominees)," she says. "The people in the category, wow! I was quite shocked to win. Then it was strange, as it was just Peter and me in the audience. I had a few notes just in case, but I forgot to thank some people."
Dunn was nominated last May in the same category, which was won by former St. Catharines city councillor Mark Elliot. The winner receives $500 and a handcrafted glass sculpture. Winners in the other categories this year made their acceptance speeches online.
The Making a Difference Award is presented to a St. Catharines arts entrepreneur, administrator, organization, animator or volunteer whose leadership and innovation have significantly contributed to the growth and development of arts and culture in the city. Nominations are collected from the community, then a panel of three volunteer jury members reviews the criteria set out by the city's arts and culture committee to choose the winners.
In Dunn's case, since 2014, the TD Niagara Jazz Festival has made a difference by keeping alive a musical art form across the region, with performances and workshops held in a number of communities over the years, including Niagara-on-the-Lake.
"I think, especially this year," she points out, "we made a huge difference not just for the audience, but for the musicians as well. Even if they were in lockdown, to have a show (online) that they knew they were doing, they had something to work toward. So many musicians gave us great feedback about that."
She adds, "the pandemic was hard for me, on a personal level. To have something to focus on was great. For mental health all around, for myself, the audience and musicians, and then mental health and well-being in general, it really made a difference, because music is so important."
Dunn, Shea, her volunteer board and team of helpers had to be creative this year with in-person performances cancelled due to the novel coronavirus. Popular annual events, such as their World Music on the Beach, were scrapped completely. Others, such as their Live, Love, Jazz series and their second annual Mardi Gras celebration went ahead, albeit in a virtual manner.
A glance at the calendar on the TD Niagara Jazz Festival's website reveals a stunning number of performances, encompassing live events, streamed concerts, and workshops about New Orleans culture, 65 in all.
And, after such a busy season, it's not over for Dunn and the Jazz Festival. This Friday, Nov. 6, Beamsville native and jazz singer Ashley St. Pierre will close out the renamed Livestream, Love, Jazz series for the year. Then, a week later, Dunn and Shea will be taking part in the Canadian Online Jazz Festival. It's the first virtual collaboration between jazz festivals from across the country, taking place from Nov. 8 through 15. Over those eight days the festival will feature music from some of Canada's greatest jazz musicians. Dunn and Shea plan to string together some of the best of their virtual offerings from this season in a bit of a highlight reel.
And on Dec. 20, the TD Niagara Jazz Festival will go online with a world music focus, connecting with jazz musicians from other countries for a winter-themed show. And Dunn's considering some novel ideas for this performance that will return the festival to its roots as a destination not just for jazz lovers, but for those who wish to learn more about the music and its practitioners.
"We are looking at a new platform, where we can have different online rooms where you can do different things," she explains. "We could have workshops and master classes happening, and maybe do two different slots, so if you miss one workshop because you were in the other room, you can catch it later."
Through it all, Dunn and her team continue to plan for their 2021 season, including a series of seven events to mark Black History Month next February. She of course hopes to be able to return to live performance, but is preparing for all manner of contingencies based on the state of the pandemic in the province and the region by then.
In the meantime, she and Shea will need to clear out some shelf space in the studio for her Making a Difference award.