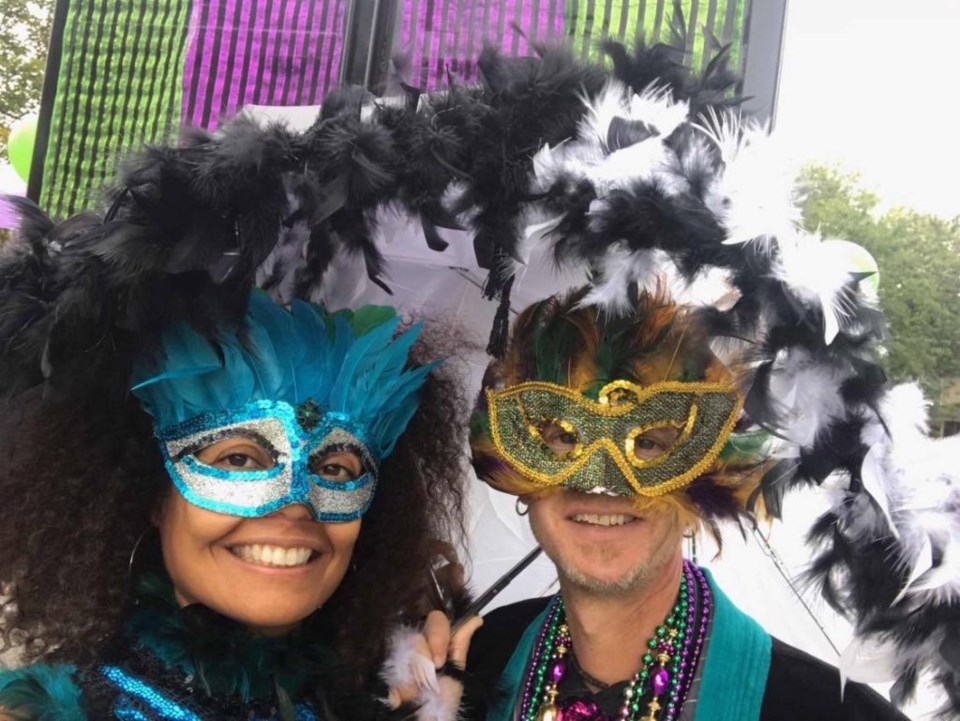 July is Mardi Gras time for the TD Niagara Jazz Festival, and things are already underway for the summer celebration.
And during the lockdown, with the cancellation of live events, the festival continues to offer concerts online every Friday and Saturday, from 7 to 8 p.m.
Since mid-March, Jazz Festival founder Juliet Dunn has been quick to jump into livestreaming to keep the TD Niagara Jazz Festival in the public eye. These livestreams, archived on their YouTube channel, encompass two of the festival's well-known series: Live, Love, Jazz, and In Your Own Backyard.
Their first online live session featured St. Catharines native James Bryan (Philosopher Kings, Prozzak, Sunshine State) playing jazz guitar. Since then, local jazz mainstays John Sherwood and Randy Stirtzinger have performed, along with pianists Miguel de Armas and Adrean Farrugia, and guitarists Eric St. Laurent and Roy Patterson, among many others.
Dunn and her husband Peter Shea have also appeared live, of course, in both their Shea D Duo and Le Duo Parisien guises. In all, Dunn has been busy, with the Jazz Festival averaging three shows a week.
This Friday, features Roy Patterson on Guitar, and Saturday The Vaudevillian. Both events can be seen at
niagarajazzfestival.com or www.facebook.com/jazzniagara/live.
Christopher Butcher, leader of the New Orleans-based Heavyweights Brass Band, kicked off the series of livestreamed Mardi Gras workshops in preparation for Niagara's summer version of the New Orleans party. He was joined by Crescent City legend Windex Pete, for an informative history lesson/travelogue on the city's rich traditions.
This past Tuesday, Austin Patterson, a multimedia artist who works in the film industry in Vancouver, led a group of participants in a mask-making tutorial from her studio on the west coast. Born to artist parents in the arts community of Sechelt, B.C., Patterson demonstrated methods she uses to create traditional New Orleans masks decorated with items found around the house, including broken jewry.
The Mardi Gras sessions continue this Tuesday, June 2, from 6 to 7 p.m., featuring Funky Fashion with Dr. Brice Miller.
Every Tuesday from now until July 14, a different workshop on New Orleans culture will be livestreamed on the Jazz Festival's Facebook page. Future sessions include jug band techniques, Cajun cooking, line dancing lessons and a tutorial on making Mardi Gras-style cocktails.
The second annual Summer Mardi Gras is scheduled for Saturday, July 18. Dunn remains hopeful that larger gatherings will be allowed by that time. Until then, though, she's planning for a number of different possibilities.
It begins with the traditional Mardi Gras parade. "The tricky part that we're working on right now is to have a parade, but without people in the parade," says Dunn. That will probably mean a band will play on the back of a flat-bed truck, and wind its way around St. Catharines and, possibly, Niagara-on-the-Lake. As has become so familiar over the last few weeks, it's a way of celebrating together without actually being together.
"You can go out in your garden, show your mask, and cheer on the band," Dunn adds. "Whatever happens, that's what we'll do, so now we'll just wait to see what the government says in terms of how many people can gather."
Dunn realizes that there won't be a move from "complete lockdown," as she calls it, to having more than 200 people gathering. She and her team have developed plans based on the situations in which 25, 35 or 50 people are permitted to gather. One of those plans includes a novel utilization of the tents that the Jazz Festival has purchased over the years.
"We have the 10-foot by 10-foot tents in our shed, and I thought that we could rent each tent to a family, or a group of up to 6 people," she says. "They would get their tent, their comfy chairs, their masks and beads, their cooler and food. That way, it's a V.I.P. experience, and we would do it in a secret pop-up location that won't be announced until the last minute."
Logistically, even if gatherings of up to 25 are allowed, that would leave room for only 12 Jazz Festival guests. The other 13 would include the band, the sound technician, the livestreaming technicians, and Dunn and Shea.
The Mardi Gras show will be livestreamed, so the on-site attendees would add to the atmosphere as V.I.P. guests. The viewers at home would be treated to a professional broadcast, with at least two cameras, close-ups of the musicians and professional sound.
As performers around the world adjust to the inability to perform in front of live, in-person audiences, avenues such as the TD Niagara Jazz Festival are important opportunities for musicians to continue to earn an income doing what they do best.
Dunn points out that when all is said and done for 2020, the usual $330,000 budget for the festival will shrink to a little less than half of that amount. The contribution from title sponsor TD Canada Trust was reduced this year, but guarantees from the City of St. Catharines and the Town of Niagara-on-the-Lake will help pay musicians for their appearances in the online sessions.
Other sources of revenue for the TD Niagara Jazz Festival include the the Niagara Community Foundation and the Ontario Music Fund. They are also awaiting word on grants from the Celebrate Ontario Fund and the Niagara Region.Though Dunn says that expenses have dropped significantly with the cancellation and postponement of some of the larger events, they still have to cover the office rent and insurance costs as usual.
After Mardi Gras, Dunn says the World Music event, usually held the same weekend, will be moved to September, which gives her more time to prepare for whatever contingencies are necessary for that event.
As she continues to plan for any scenario in terms of what size gatherings will be allowed this summer, Dunn's thoughts also move beyond September, when she has to sit down and apply for funding for 2021. Of course, she hopes, as many others do, that the TD Niagara Jazz Festival can return in full force by then.