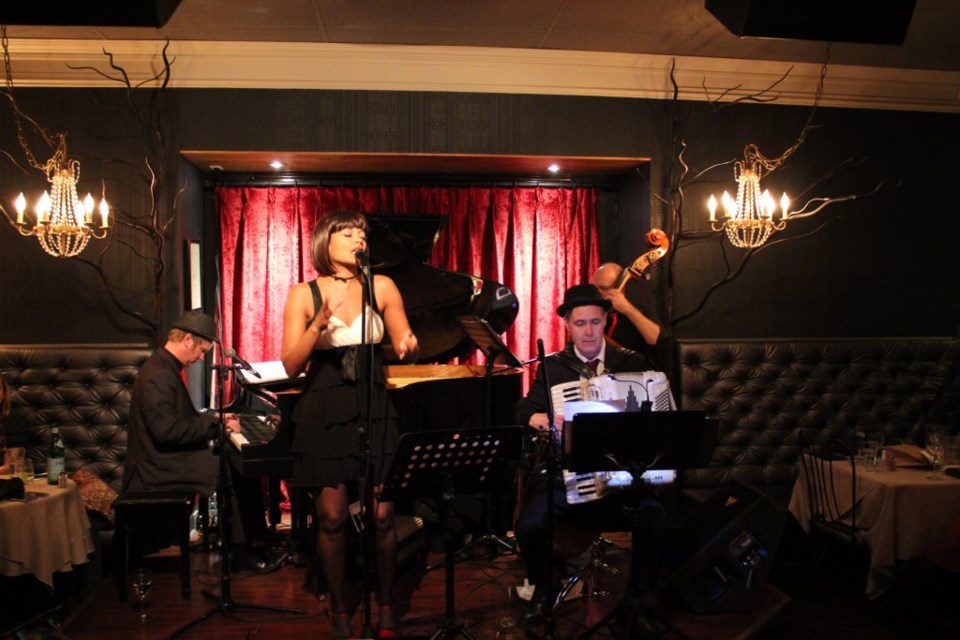 Since 2011, April 30 has been known as International Jazz Day, declared as such by UNESCO in honour of the role the art form has played in uniting people across the world.
The TD Niagara Jazz Festival celebrates the day with a performance by Le Trio Parisien at Stratus Vineyards this Saturday. The evening does double duty as a fundraiser for the festival, with 10% of the proceeds going to the Canada-Ukraine Foundation.
After marking the day in 2020 and 2021 with online performances, festival co-creator and executive director Juliet Dunn is thrilled to be back at Stratus for a live program.
"It's pretty great that there's a day worldwide to celebrate jazz," she says. "It's so important to recognize the art form. That's what we do all year long, too."
To honour the special day, Dunn is digging into her formative years as a singer with an evening of music inspired by France.
"It really is my favourite of all the bands we have," say Dunn on the line from her north St. Catharines home. "I lived in France from the age of 18 to 30. I really connect with all of the French tunes. I prefer singing in French, and my Mom always loved my singing in French."
Dunn lost her mother suddenly earlier this year, just a few short months after having to also say goodbye to her sister, Kim. Clearly, her choice to act the chanteuse Saturday is partially a tribute to her Mom.
Dunn will be joined by her husband and TD Niagara Jazz Festival co-creator and artistic consultant Peter Shea on piano. Shea will take turns with fellow pianist Doug Mundy, while St. Catharines native Jeff Luciani will play drums. Adrian Juras will be on bass, and, stretching the definition of a trio format, Tom Szczesniak plays the very important accordion.
"That's the highlight of a French band," Dunn says. "It won't sound like a French band without an accordion. He has quite the resume, too."
Besides the accordion, the Toronto-based Szczesniak is a composer, arranger, conductor, pianist and electric bassist. He has performed with scores of renowned musicians, including Gordon Lightfoot, Anne Murray, Little Richard, K.D. Lang, Smokey Robinson and Bobby McFerrin. In addition, he has composed music for over 100 feature films and countless animated television programs.
Dunn promises an evening of music made famous by Edith Piaf, Josephine Baker, Charles Aznavour and others.
"We'll do some tunes originally written in English, but I'll sing them in French," explains Dunn. "We'll do 'Autumn Leaves', which was originally written in French by Jacques Prévert, and a jazz number called 'Nature Boy', in French."
Dunn adds that most of the songs will switch between the two languages, with about four or five that will be exclusively in French.
"For those, I will explain them before I sing them," she adds. "Most of the show I will speak in both French and English. It's lots of fun."
She's also relishing the opportunity to dress up for the evening. She'll be pulling out her Paris-inspired outfits and donning a wig to play the part.
Stratus Vineyards is the perfect location, as well. Winemaker J.L. Groux is a native of France's Loire Valley, and he and his wife often show up whenever Le Trio Parisien is playing anywhere in the region. As well, Dunn reminds The Local that she actually worked at the Mississauga Road winery when it first opened.
The fundraising part of the evening includes a 50/50 draw and a silent auction.
"We always like to give some of our proceeds back," Dunn says. "In the past, we've given to the United Way, Red Roof Retreat, the migrant workers and other charities. This year we decided to contribute to a cause that is needed so much right now."
Normally, International Jazz Day is used also as a platform for the Jazz Festival to announce its summer lineup. They're not quite ready to reveal the full details this weekend, though Dunn says July 20 to 24 are the dates, and they have lined up Henry of Pelham and The Hare Wine Company as locations.
Besides this Saturday's event, the festival's popular Twilight Jazz and Blooz Series continues with six more events through to July 4 at Spirit in Niagara Distillery on Lakeshore Road. The next performance in that series is by blues pianist Julian Faith on Monday, May 2.
Tickets for the April 30 International Jazz Day celebration are $79 plus HST, and include a complementary glass of Stratus wine and amuse-gueules, which Dunn explains are finger foods.
Vaccination policies are in effect for the indoor event. Dust off that beret and dig out your gitanes, but remember to smoke them outside if you bring them.