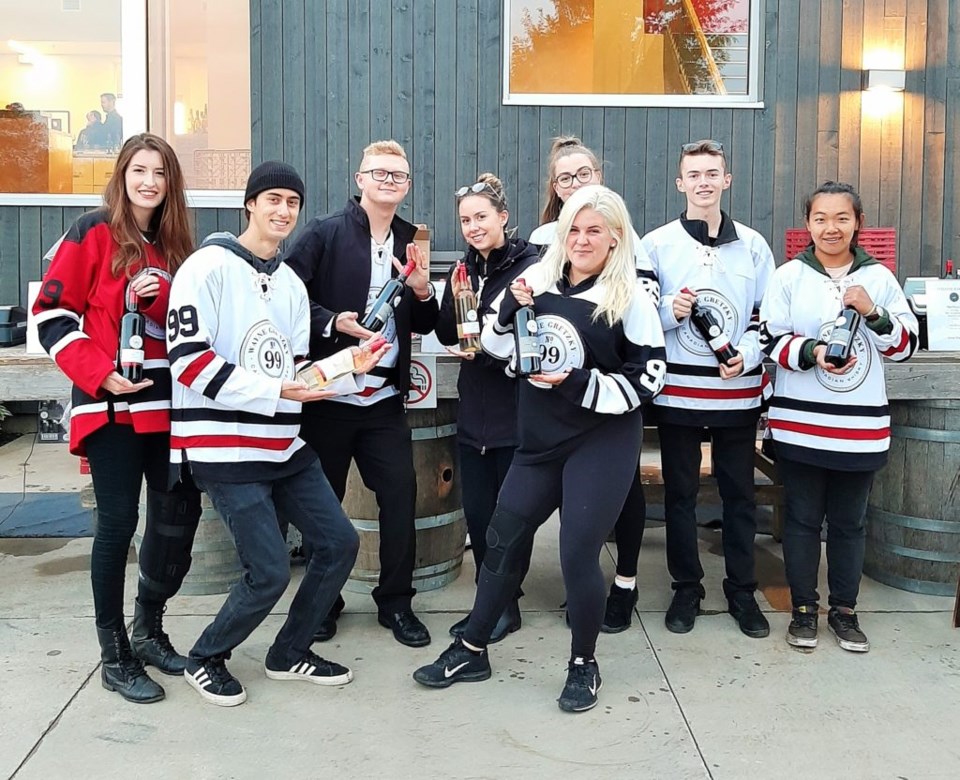 Saturday was a full day of fun and festivities at Wayne Gretzky Estates Winery and Distillery.
The day started with Wayne Gretzky Estates hosting the annual Cabernet All the Way event. Along with Trius Winery, Peller Estates Winery and Thirty Bench Wine Makers, Wayne Gretzky Estates invited each of the 500 participants to enjoy the best cabernets these wineries have to offer.
A touring pass included one glass of red wine at each winery, however, Wayne Gretzky Estates offered patrons a red-wine themed cocktail as an alternative. In addition, participants collected one Cabernet All the Way souvenir glass from each winery. Plus, every location for the sold-out event offered cabernet fans a food pairing with each wine or cocktail from the resident winery chefs.
This occasion provided the perfect time for Wayne Gretzky Estates Winery and Distillery to launch a new product, No. 99 Whisky Oak Aged Red 2018. This particular wine is Gretzky's first whisky oak-aged wine.
It is a signature blend of cabernet-merlot, which is aged first in French and American oak. Then 25 per cent of it is finished in Wayne Gretzky's own Red Cask whisky oak barrels. This newly released wine was paired with a double chocolate ice cream sandwich for this occasion.
While some people wandered through the grounds, they enjoyed a beautifully crisp and sunny day, with the sound of live music in the air. Others jostled for the perfect souvenir photo against the impressive silver '99' sign, while a few others played pool or enjoyed a game of bocce ball on the court by the Beer Garden.
Eventually, the last of the Cabernet All the Way revellers boarded their tour buses or climbed into their limousines for the ride home, but festivities at Wayne Gretzky Estates were not over yet. The staff traded their Cabernet All the Way T-shirts for hockey jerseys and set up for the Hockey Edition of Saturday DJ Night.
As light began to fade and the half-moon rose, people continued to drink and dine at the Whiskey Bar Restaurant Patio. As the temperature fell, the Beer Garden staff continued to serve No. 99 Rye Lager.
The gas fireplace was lit and the patio lights were turned on. A 25-foot inflatable screen enabled fans to watch the face-off between the Toronto Maple Leafs and the Montreal Canadiens, with picnic tables and seating for optimal viewing. A third pop-up bar complete with patio heaters was set up to accommodate guests who continued to arrive.
Richelle Sticklee was in charge of this pop-up bar. She is the supervisor at the Whiskey Bar Restaurant. Sticklee said that although she has been in the service industry for more than 10 years, this is her first year at Wayne Gretzky Estates and she is enjoying it. "Hospitality is in my blood," she enthusiastically explains.
Having recently moved to the area, she was drawn by the reputation of the winery and talented staff there.
She describes how impressed she is with the resident estate mixologist, Zac Kvas, who won the Ontario Hostelry Institute's Top 30 Under 30 award this year. This is an annual award that honours young professionals in the food service and hospitality industry. She is proud to provide quality products in everything they produce from the wine, the whiskey and even the simple syrups for their signature cocktails, she says.
Sticklee's enthusiasm for her work is obvious when she reiterated how the products are hand-crafted and the ingredients are locally sourced. It is this type of dedication by the staff at the Wayne Gretzky Estates Winery and Distillery that ensured two successful events in one day.
Although Cabernet All the Way is over until next year, there is still time to enjoy Saturday DJ night at Wayne Gretzky Estates with DJ Dave Stiles.
This event will continue to run from 6:30 p.m. to 10:30 p.m. on Saturday nights until the end of October.