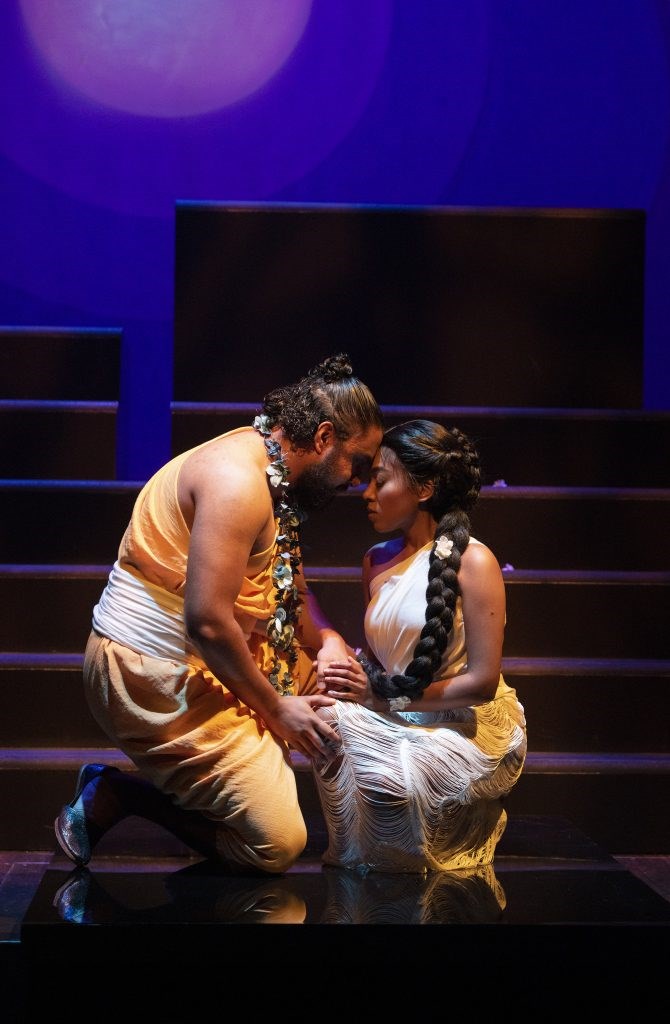 On the surface, George Bernard Shaw and his contemporary, Bengali poet, playwright, visual artist and composer Rabindranath Tagore, were worlds apart. But a deeper dig into their turn of the century works reveals some stunning similarities.
Kimberly Rampersad is directing and choreographing Tagore's one-act play Chitra, to be performed at Shaw's Royal George Theatre until Oct. 8. She first chose the play back in 2017 when she was a Neil Munro Directing Intern at Shaw. The gender politics, as well as the similarities between Chitra and Shaw's Mrs. Warren's Profession, drew her to Tagore's work.
"It blew my mind, the idea that Kitty and Vivie argue aspects of feminism," Rampersad says of the two central characters in Shaw's play, written in 1893 and first performed in London in 1902. "A gentleman wrote that. That big theme of the 'new woman,' which runs through many of Shaw's plays, also runs through this play."
Chitra is Tagore's own English translation of his dance drama Chitrangada, was written in his native language in 1892 and translated in 1913. The story follows the title character, the warrior princess of Manipur and the only heir of King Chitravahana. Raised as a boy, she embraces the warrior spirit, becoming a particularly skilled archer.
But after a chance encounter with the warrior hero Arjuna, Chitra begs the gods for perfect beauty in an attempt to win his love and affection.
"Something is sparked in her," Rampersad explains. "It's her womanhood, her sexuality, her self-awareness. That awakening takes her on a journey to her new self, where she is able to reconcile all aspects of herself."
In that storyline, Chitra embodies the 'new woman' both literally and figuratively, as she begins to discover her own femininity. In today's era of acceptance of gender fluidity, Chitra the play holds a special kind of relevance.
"I hope that with people's awareness they can see that every human being has aspects of femininity and masculinity in them," says Rampersad. "It's not about gender, it's about the human experience. I hope that everyone who has ever had a moment when something within them didn't necessarily jive with how they think the world perceives how they should be, can identify with that."
The Winnipeg native says Gabriella Sundar Singh, in her fifth season at Shaw, is brilliant in the title role.
"Not only is she a great actor," raves Rampersad, "she's also trained in a form of classical Indian dance. She's able to bring all of those worlds together in the portrayal of Chitra. She is so comfortable in her body, she's able to move like the warrior, and also embody the other aspect of herself when she becomes beautiful."
Andrew Lawrie, a veteran of both Shaw and Stratford Festivals, plays the role of Arjuna.
"He does a lot of especially comedic plays, and he's very talented," Rampersad says of Lawrie. "It's wonderful to see him stepping into that leading man role, watching him lean into that. We first worked together on this in 2017, and then last year during COVID we did a reading of Chitra in the garden behind the Royal George Theatre. So all three times he's been involved."
Rampersad herself is in her seventh season at Shaw. She is currently knocking everyone's baseball socks off as the sexy temptress and devil's assistant Lola in Damn Yankees. Rampersad is also learning the ropes as associate artistic director under Shaw's Tim Carroll.
"I stepped into the position in March, 2020," she explains. "I never imagined I would ever be in artistic leadership when I started my career, but that's how it has unfolded. I am learning about all aspects of a theatre company."
Of working with Carroll, Rampersad says she is fortunate to get a chance to pick his brain in twice-weekly sessions together.
"I hope that I function as his privy council, or his senate. What's great, too, is there's reciprocity. It's not just him asking for my gaze on something, but I can also present plays, ideas and ways of working, and I know that I will be heard."
Rampersad's parents immigrated from Trinidad and Tobago in 1969. She graduated from the University of Manitoba with a degree in political science. She also earned her dance teacher's certificate through the Royal Winnipeg Ballet School, and was on the faculty there for four years. Later, she became a  full-time dance clinician with the Winnipeg School Division and helped write the dance curriculum for the Province of Manitoba's Department of Education.
She was at Stratford in 2014 when she came to Shaw to audition for Sweet Charity, scheduled to run the following year. She booked that play and also performed in Pygmalion that season. Seven years later, she's still here, and has moved full time to Niagara-on-the-Lake, embracing life in town to its fullest. 
"My first love is dance," she says. "Dancing led to musical theatre, and that's brought me to the career I have now."
Her dance moves are a major highlight in Damn Yankees, while directing and choreographing Chitra has given Rampersad further opportunity to draw on her first love.
Tagore's original one-act play was written in verse, but 44 years later the Nobel Prize winner rewrote it as a dance drama.
"We combine elements of his original play with his dance drama," explains Rampersad. "For example, Chitra is an archer, and the archery is performed as dance. The plot is driven forward throughout as dance."
Chitra continues at the Royal George Theatre on Queen Street with about a dozen performances per month until Oct. 8. The one-act play begins at 11:30 a.m. and runs just under an hour. To plan your lunchtime visit, go to shawfest.com.