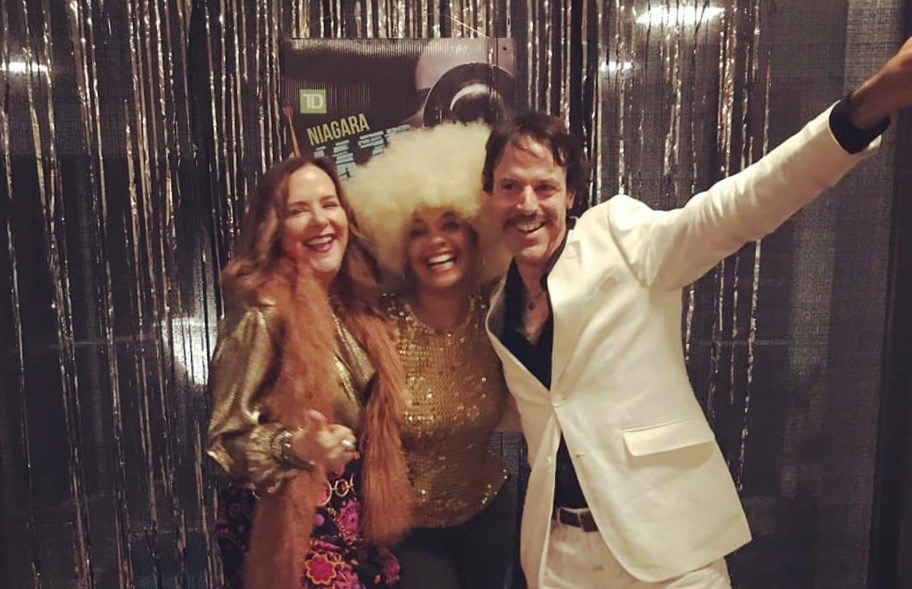 It's time for disco dancing and mashtinis.
The TD Niagara Jazz Festival presents its annual Disco Dance Party Mashtini Fundraiser at White Oaks Resort and Spa Friday, March 6.
Disco is pretty self-explanatory, but to many, the "mashtini" requires some explanation. Juliet Dunn, executive director of the TD Niagara Jazz Festival, says she and her husband and musical partner Peter Shea were representing Niagara at a conference in 2009. On a break, they visited the Prince Edward Island booth, where hosts were serving mashed potatoes in martini glasses.
The couple filled their glasses with the creamy potatoes, and added toppings to spice things up. Dunn says Shea turned to her and said "oh my gosh, it's like it's a mash-tini!" According to Dunn, the PEI representative at the booth looked at them like they were crazy, having no idea what they were talking about. Dunn and Shea are pretty sure that they coined the term, which has since caught on.
In fact, mashtini recipes and party ideas from around the world can now be found on the internet. Even that old American mainstay, Bob Evans Restaurants, promotes the fancy, elegant way to consume the mashed spuds.
The following year, they held their first mashtini party, with Dunn preparing the potatoes and a variety of toppings. The party has since evolved from its humble beginnings as a private party to an event to recognize the corporate sponsors of the festival, and last year was combined with disco to create a full-blown spring fundraiser.
With funding to the arts reduced by the provincial government last year, the TD Niagara Jazz Festival has been forced to rely more heavily on corporate and individual donors to continue to present some of the best jazz musicians in the country, and from around the world.
Now in its seventh year, the TD Niagara Jazz Festival runs with a budget of about $300,000 per year, and in 2019 saw 58 different events under the Jazz Festival banner, featuring 287 musicians.
Of that $300,000 budget, Dunn says one-third of that was used to cover artist fees. "The other big costs," says Dunn, "were stage, sound, logistics, security, fencing and tents."
Their two free events last year, World Music on the Beach in Port Dalhousie, and Jazz in the Park, for instance, each chew up about $60,000 of that budget. To continue running these events free, fundraisers like the disco dance party are even more crucial this year.
There will be some changes to the festival for 2020, however. Jazz in the Park, held most recently at Simcoe Park, will be moved to Lakeside Park in St. Catharines. The Mardi Gras parade will return to that same location this year.
There will be some ticketed events in NOTL as part of this year's festival. Canadian singer-songwriter Marc Jordan and his quartet kick off the festival weekend July 16 at Ravine Vineyard. The following evening it's Jammin' with Hammond, featuring Matt Weidinger of Kitchener on the Hammond B3. As well, the 2020 Niagara Jazz Festival begins its final day, Sunday July 19, with the Gospel Soul Brunch at Hare Winery.
Dunn guarantees that the March 6 Disco Dance Party Mashtini Fundraiser will be a blast, with complementary mashtinis, raffles, door prizes, a 50/50 draw and a traditional silent auction. She encourages partygoers to have fun dressing up in bell bottoms and other disco-era fashions, as there will be prizes for best costumes. Live music will be provided by the band Hausquake, which features Dunn's husband, Peter Shea.
Though it is primarily a fundraiser for the Jazz Festival, a portion of the proceeds will be donated to the Niagara Migrant Workers. Dunn is half-Jamaican, and points out she used to work at a NOTL winery. She recognizes the hard work and the struggles of the migrant workers who leave their homes each year to toil in Niagara's vineyards and orchards.
Tickets for the event are $39, and Dunn says, now that the TD Niagara Jazz Festival has been granted charitable status, each partygoer will be given a $25 tax receipt for their donation.
Visit niagarajazzfestival.com for tickets and information.