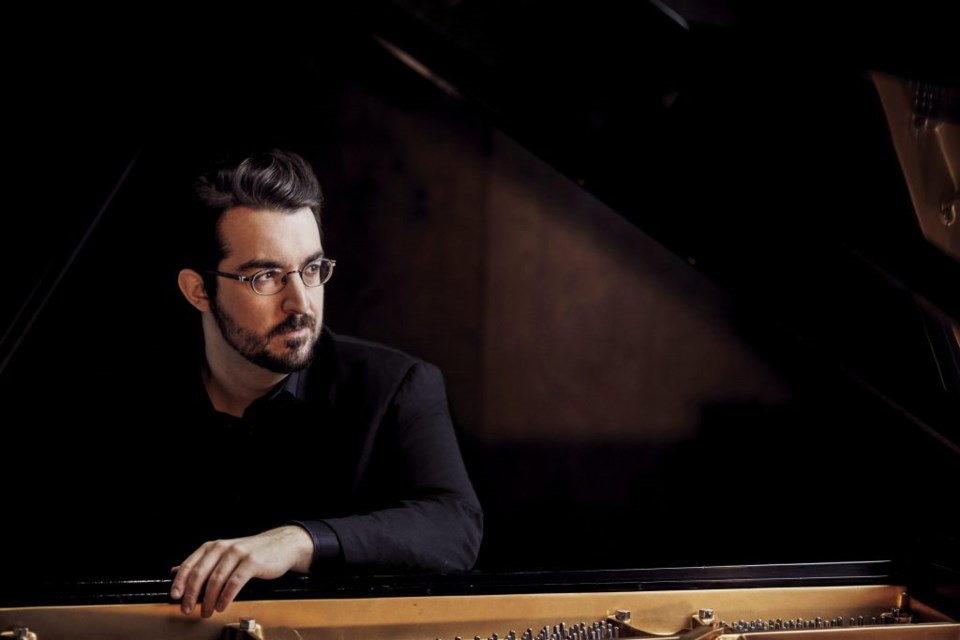 The spring 2022 Bravo Niagara! Festival season gets underway next Saturday, April 2 at 7 p.m .with a virtual concert by the Chinese-Canadian brother-and-sister duo of Bryan and Sylvie Cheng, known as Cheng2.
And six days later, Quebec-born pianist Charles Richard-Hamelin kicks off a series of live performances with an intimate concert of music by composers Franck, Ravel, and Chopin at the FirstOntario Performing Arts Centre in St. Catharines.
Richard-Hamelin says he is honoured to be part of Bravo Niagara!'s Maestro Series, along with Jan Lisiecki (April 28) and Jon Kimura Parker (May 29). The program for his performance at the Robertson Theatre is split into two halves, one featuring works by French composer César Franck and Belgian Joseph-Maurice Ravel, the other focused on Frédéric Chopin, of Poland.
"It's sort of my specialty the last few years, Chopin," says Richard-Hamelin, "especially since the Chopin Competition. I'll be playing the '24 Préludes', which is one of his most epic cycles. It runs more than 40 minutes when played all in a row."
Richard-Hamelin has released eight records on the Analekta label since 2015, the most recent a 2021 recording of those very same Préludes. In fact, half of those eight albums are works by Chopin.
The internationally acclaimed pianist was the silver medalist and laureate of the Krystian Zimerman Prize at the 2015 International Chopin Piano Competition in Warsaw, Poland. He has also taken the second prize at the Montreal International Musical Competition and the third prize at the Seoul International Music Competition in South Korea, both in 2014.
He values the experience that he gained by playing in such challenging conditions.
"The discipline and the hard work it takes to geat through a program like that in such stressful conditions," he reflects, "it's kind of the perfect way to set you up for what's to come if you do succeed. The point of doing the competitions is not to win, because if you set that as your goal you set yourself up for disaster. I encourage my students today to do as many competitions as they can. You learn your craft on the stage under pressure."
Franck's "Prélude, Aria et Final" will start the evening, a composition that Richard-Hamelin claims is rarely played. He'll follow that up with Ravel's "Le Tombeau de Couperin", a baroque piece written in six movements.
"Three pieces on the programme, three big cycles," Richard-Hamelin says. "Three of the greatest masterpieces for the instrument. Most programmes would feature only one of those three. But it is very balanced."
He describes Franck as more cerebral, with a lot of gravitas. The Ravel selection is lighter in texture, more transparent, balancing well with the thickness of the Franck piece. And capping it off with such a large composition by Chopin, with so much variety between its slower and faster movements, gives him and the audience a lot of room to breathe within it.
When asked how he puts his own stamp on the work of the great composers, the 32-year-old musician says it is never a conscious decision.
"We all love this music in our own unique ways," he explains. "If there's a favourite thing I really love in one Prélude, I will tend to highlight a phrase that will be different from other people. If you think you have to play something differently, it can tend to sound mannered and against the composer's wishes. Inherently, my own personality will just come out."
He is looking forward to arriving at the PAC on April 8, when he will take the time to get accustomed to the facility's Steinway grand piano.
"I usually take at least two hours to play through everything on the instrument," says Richard-Hamelin, "so I can see how it sounds, how it feels, and to try to highlight the best qualities of the instrument. And if there are weaknesses, to try to hide them the best I can."
With live performances getting back on track now that pandemic restrictions are easing, Richard-Hamelin is looking forward to returning to his busy schedule of 60 to 70 concerts annually. He has an upcoming month-long tour of Korea and Japan and will also be recording an album of Robert Schumann's Sonatas with violinist and concertmaster Andrew Wan of Orchestre symphonique de Montreal.
For Richard-Hamelin, like any other working musician will attest, there is nothing like performing live.
"The people who show up to concerts are incredibly appreciative, and the musicians are too," he says. "We know it's not ideal conditions to wear a mask. What makes going out to a concert fun - meeting the audience after, having a reception - all of that was lost. But it's slowly coming back to normal. I played in Victoria last week, and it was refreshing to see an audience without masks."
The online performance by the Cheng2 duo April 2 is free of charge. Cellist Bryan Cheng and his pianist sister Silvie have been named one of CBC Music's 30 hot Canadian classical musicians under 30. Since 2013, the siblings have commissioned nearly a dozen new works and curated concert experiences that meld classical and contemporary music with jazz, poetry, and visual/media arts. Registration is required prior to April 2. Information is available at bravoniagara.org.
Tickets for Charles Richard-Hamelin's in-person performance at the PAC's Robertson Theatre are $50, $25 for students and youth. There are also flex packs and Maestro Series passes available at discounted prices. Visit bravoniagara.org for tickets.