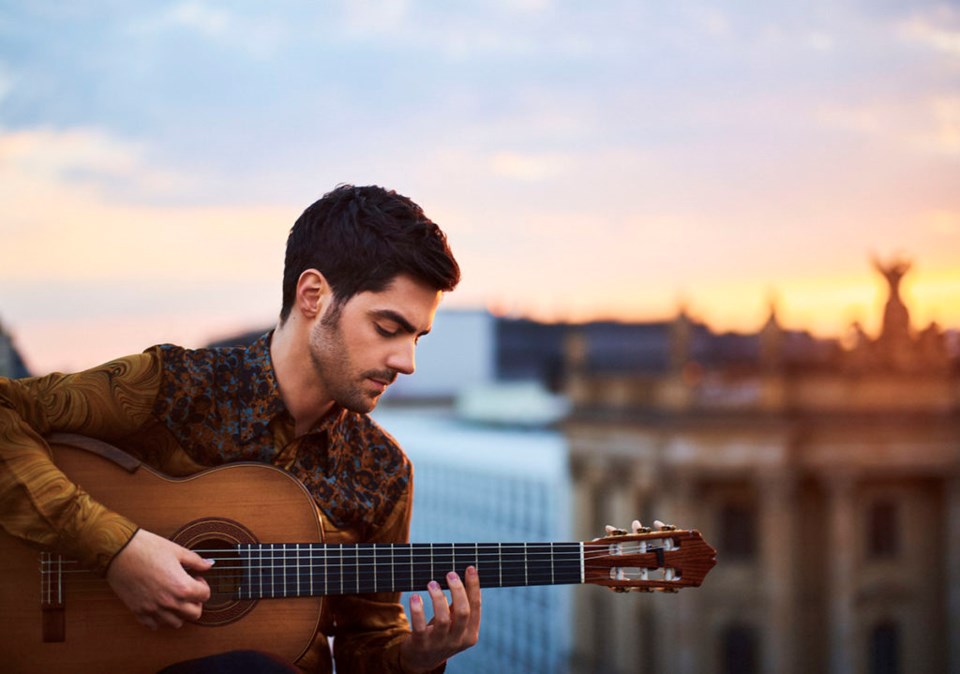 The first half of Bravo Niagara! Festival of the Arts upcoming 2022-2023 season features the return of three familiar faces and a holiday season kickoff that's been three years in the making.
The not-for-profit organization founded and run out of Niagara-on-the-Lake by artistic director Christine Mori and her daughter, executive director Alexis Spieldenner, announced their upcoming fall series of four concerts this week.
The series begins on October 23 with the return of classical guitarist Miloš Karadaglić, known simply by his first name. It's a fitting start to the first full season since the beginning of the pandemic, as Miloš played the last Bravo Niagara! concert on March 15, just before COVID-19 shut down the entire world.
After much thought and consideration, Mori and Spieldenner decided to go on with that 2020 show at St. Mark's Anglican Church. The capacity at the church met the government's limit at the time on indoor events, but Bravo Niagara! capped the admission at 200. Refunds were offered, and Mori estimates about half that total showed up.
Miloš will make his triumphant return to Niagara on an October Sunday afternoon with a program he calls "Reflections and Reinvention". Named one of the six greatest classical guitarists of the last century by BBC Music Magazine, the 39-year-old who was born in Montenegro is known for his ability to work in both traditional classical and pop classical realms. His 2016 album, Blackbird, was a collection of his versions of songs by the Beatles.
His solo recital will take place at the First Ontario Performing Arts Centre's (PAC) Recital Hall.
Another familiar Bravo Niagara! Festival face, soprano Measha Brueggergosman-Lee, visits the same venue in St. Catharines on Saturday, November 5.
Her latest album, 2020's Measha Jazz, combines what she's known for - classical and jazz - with her takes on blues, gospel, funk, francophone folk and 70s-era easy listening. The record includes versions of a number of Nina Simone classics, including "Take Me to the Water"and "Sinnerman", the Billie Holliday chestnut "Strange Fruit" and the freedom song "Woke Up this Morning (With my Mind Stayed on Freedom)".
"We loved having her last time, when she performed with the NIagara Children's Choir," Mori tells The Local. "We're really excited to have her back and we look forward to the wide range of her repertoire for this show."
South African born bassist Bikithi Kamalo brings his "Graceland Experience" program to a new Bravo Niagara! venue, Ridley College's Mandeville Theatre on Saturday, November 19.
"He's doing a tribute to Paul Simon", Mori says of the man who worked with the American singer/songwriter on his landmark 1986 album. That's Kamalo's famous bassline on the hit song "You Can Call Me Al".
"He tells the story of Paul Simon discovering him," Mori continued, "as well as his experience recording the album, and then his career touring with Paul. It's a really amazing tribute."
Kumalo last performed live for Bravo Niagara!'s Voices of Freedom Festival in 2019 and followed that up in 2020 with his participation in an online presentation of a new version of the song "We Are the World", which also featured Brueggergosman-Lee.
Now living in the US, Kumalo has won five Grammy Awards and has played with the likes of Herbie Hancock,the Susan Tedeschi Band, Josh Groban and Gloria Estefan, among others.
2022 ends with a chance for Bravo Niagara! to finally welcome the legendary Count Basie Orchestra to Partridge Hall at the PAC. The Christmas-themed show was originally planned for December, 2020. It will finally happen two years later, on December 18.
"'A Very Swingin' Basie Christmas' is probably my favourite Christmas album," says Mori. "We start playing that in November to get into the spirit. It's probably the first time the Basie Orchestra has played in this area, at least in the last three decades."
Thirty years after the passing of Count Basie, his orchestra is still performing sold out concerts all over the world. Directed today by Scotty Barnhart, the 18-member ensemble has won every respected jazz poll in the world along with 18 Grammy Awards.
Some of the greatest soloists, composers, arrangers and vocalists in jazz history have worked with the group, including Lester Young, Billie Holiday, Thad Jones, Sonny Payne and Joe Williams. Current members include musicians hired by the late bandleader himself.
Donors and past Flex Pack purchasers are offered exclusive presale access to tickets for the four shows until Wednesday, September 5. They go on sale to the general public Tuesday, September 6 at 11 am, with special early bird pricing until September 13.
Details on the second half of the 2022-2023 season will be revealed some time in November.
MAJOR DONATION TO BRAVO NIAGARA TO SUPPORT KIMIKO'S PEARL
Also last week, Bravo Niagara! announced a major, transformational donation from the Hilary and Galen Weston Foundation to support Kimiko's Pearl, a new multidisciplinary production that will honour the resilience of the Japanese Canadian community and shed light on a dark chapter in Canadian history.
The idea came to the mother-daughter team in 2020, but the project began in earnest in 2021, shortly after Chicago Tribune music critic Howard Reich announced his retirement from the newspaper.
"His parents were Holocaust survivors," Mori tells The Local. "The story resonated with him right away. I emailed him to congratulate him on his retirement, and I pitched the project to him. He immediately agreed to work on it."
The Emmy Award-winning Reich began piecing together the family history of Mori and Spieldenner. It's a story that focuses on Spieldenner's maternal great-grandparents, Shizuo and Natsue Ayukawa, who left Japan to start a new life in Canada at the beginning of the 20th century. They settled in Mission, BC, where they built a strawberry farm before they were removed from their property during the war.
Spanning four generations, the story is set against the turbulent backdrop of World War II, reflecting the tragedies and triumphs of Japanese Canadian families before, during and after the period of internment. Their harsh experiences attest to heroism and hope in the face of racism. It's told through the eyes of Kimiko, a 15 year old Toronto girl who discovers an old family trunk containing a forgotten diary.
Mori and Spieldenner serve as co-creators and producers of the original ballet, alongside producer Jeff Herd. Kimiko's Pearl features original music by Kevin Lau and choreography by Yosuke Mino. The production features dancers from the Royal Winnipeg Ballet and three generations of Japanese Canadian visual artists and musicians.
In February, Bravo Niagara held a video premiere of the opening movement on their website and YouTube channel. The creative team flew to Niagara this past May for a five-day long workshop on scene three of the ballet.
"They worked from 9 am until 5 pm each day at the Robertson Theatre," Mori remembers. "We rented a house for them so they could all stay together. Yosuke told us that at 5 o'clock, they didn't stop. They were working on choreography in the kitchen, all of them."
There's still much work to be done on Kimiko's Pearl, including gathering musicians to record Lau's original music to ready it for a CD release next year. Bravo Niagara! is hoping to hold the premiere of the original work in Niagara in spring, 2024, before taking it on tour.
Spieldenner says the gift will allow them to complete the ballet at the scale that they had envisioned, including the incorporation of original artwork to complement the choreography and music.
More details on the premiere and future touring will be announced at a later date. For more information, please www.kimikospearl.com and follow @kimikos_pearl.