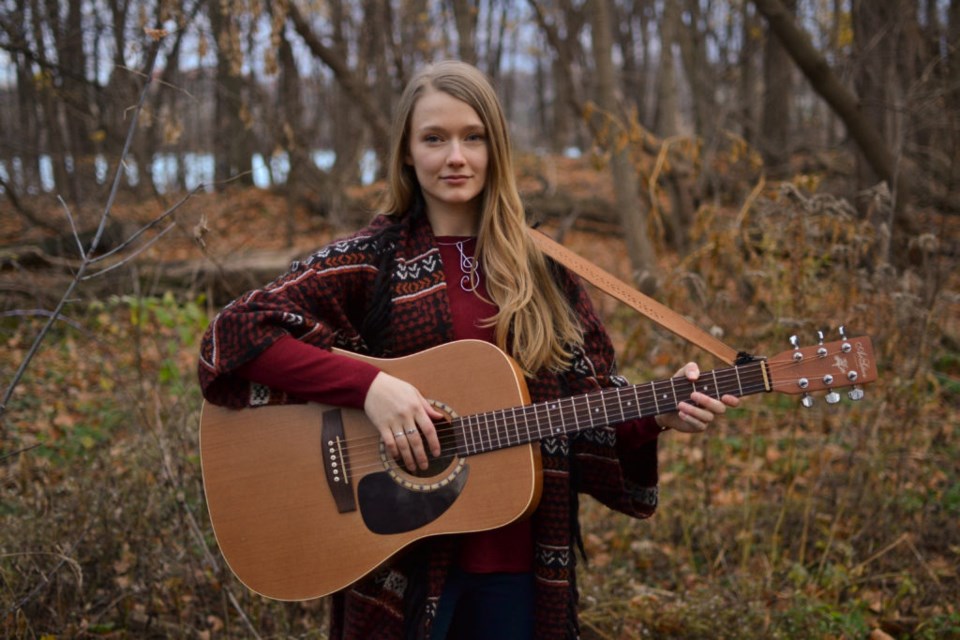 Though she currently lives and works in the west end of Toronto, singer-songwriter Michaela Bekenn is very much a child of Niagara-on-the-Lake.
The 28-year-old, who is also a certified sound therapy practitioner, yoga and meditation guide and youth facilitator, practically grew up at the Shaw Festival Theatre.
Bekenn, whose new single release, The Earth Has Music, is available on all streaming platforms, is the daughter of long-time Shaw Festival regulars Anthony Bekenn and Sharry Flett. In fact, the Parliament Oak and Sir Winston Churchill Secondary School graduate walked the boards herself, appearing at the festival in Gypsy in 2005, and A Little Night Music in 2008.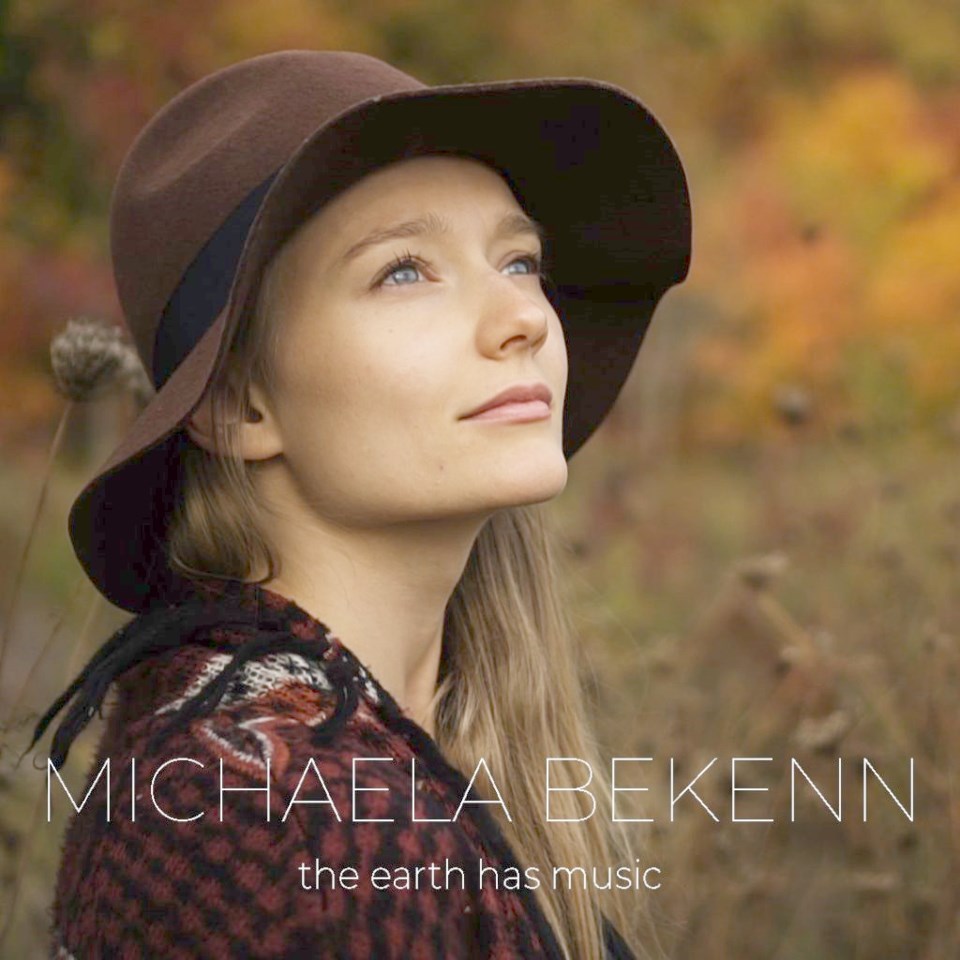 Growing up with those experiences, and with parents who are members of the theatre world, informs much of her new song, the first from her full album planned for a spring, 2021 release. But other experiences seem to have brought her music and its role in her life into another dimension.
"It was really through the discovery that music has been a part of my own personal growth, and personal healing," says the University of Toronto grad.
Her grandmother is 93 years old, and living in a long-term care home in the Oakville area. Bekenn has become one of her essential caregivers, using music to break through the barriers to communication that dementia has put up.
"Giving music to my grandmother as an offering of care made me discover, through our connection to music, that it was a language to reach her," she explains. "That became a real pivot to me, in realizing it's not just music as performance, but music as healing."
Up to that point, like many musicians, music and theatre to her had been performance-oriented. But as she began to study the effect of music on the nervous system and the brain, she realized that beyond entertainment, music actually had the power to change somebody's quality of life.
She describes another experience with a family member that had a direct influence on her first single.
"The moment when my father fell from the roof a number of years ago," she says, "the sense of anything being expected just sort of dissolved. The awareness that uncertainty is the most certain thing in this human experience."
She describes taking long walks in nature with Anthony during his recovery from what could have been a fatal accident. As the two walked together, they began to listen to the music of the earth in new ways. Those discoveries are reflected in the lyrics of The Earth Has Music:
Sometimes in life there comes a knocking at
your door
You stand alone on the edge of this world
This world and something more
The video for the song, shot at Decew Falls and at Ryerson Park (down the road from her childhood home in the Chautauqua area), sees Bekenn dancing, singing and playing her guitar in nature, emphasizing the healing power of the land. The lyrics continue:
The Earth has music for those who listen
The answers you seek are
underneath your skin
Embedded in this moment
Bekenn's graceful dancing in the video is most definitely informed by her study to become a yoga practitioner, as well as her theatre background. Sonically, The Earth Has Music draws upon her experience in sound therapy and meditation.
The song starts with a quiet, spiritual-sounding rhythm, played by Bekenn on her acoustic guitar. It builds slowly to a climactic instrumental passage, featuring a soaring electric guitar solo by Niagara guitarist James Moore. The song, as well as the entire new album, was recorded and produced by Fred Gabrsek at his Garrison Village area studio.
Gabrsek, a sound designer and operator at Shaw, has watched Bekenn grow up. He became her guitar teacher when she was given the instrument for her 16th birthday, and he is still astonished at how quickly she picked up the six-string.
"She was just like from beginner, to, nine months later, a rocket," Gabrsek reflects. "I did a one-hour lesson once a week when she came to me, for about six months. Then she went away for summer vacation. When she came back, she said, 'I've written a bunch of songs, what do you think?' And it was amazing."
Some of those songs she wrote 12 years ago have found their way back to his studio, and will be on the 2021 release. She and Gabrsek laid down some very raw tracks as a demo back then. They've now been embellished with the accompaniment of guitarists Moore and Gabrsek, Allan and Dave Colavecchia on bass and drums respectively, and keyboardist Larry Swiercz. Gabrsek says she quickly took to the studio process, and by the end of the sessions she was offering up her own technical advice to him.
Bekenn refers to Gabrsek repeatedly as "the wizard." As much as he is impressed with her, she's equally impressed with the range of sonics he was able to come up with.
"He created sounds that were almost cathedral-like in their echo, and others that were much more intimate and close up," she says. "All of the songs on the forthcoming album really do have their own tone, personality and character. Some have more of a folk-rock influence, some of them are meditation music, a little bit of children's music (featuring a choir of students from Royal Oak School in NOTL), and some very bare-bones, Joni Mitchell-inspired folk songs."
Other tracks on the album came out of a retreat she attended in British Columbia. "I went to Kootenay Bay in B.C.," she explains. "There's a good chunk in the songs that came out of the days I spent there in solitude on this songwriting retreat, but surrounded by a community of people on the mountains, in an ashram there, writing day-in and day-out."
A visit to Bekenn's YouTube channel will reveal a video for another song, called Sky Dancers, which has been reworked for the new album. Very different than The Earth Has Music, here she sings of the raven while playing a Tibetan singing bowl, which gives the number an eerie, spiritual feel, reminiscent of an Indigenous chant. As well, recently she has begun mastering a set of 12 crystal singing bowls that she uses in her sound therapy practice, and in her Self Love Sound Bath livestreams that can be seen on her Instagram page. These bowls can be heard on the new album, as well.
The response to the first single, which was released at the end of October, bodes well for the future album. A number of blogs, including Higher Plains Music and Vents Magazine, have written features and reviews, while Volatile Weekly refers to The Earth Has Music as her "gorgeous new single."
As she navigates the waters of promotion and public relations as a totally independent artist, Bekenn plans to release another single some time in January to build more buzz for the full set of songs. And she promises to remain staunchly independent, giving her the freedom to wear all the hats she likes to adorn as an interdisciplinary singer-songwriter, sound therapy and yoga practitioner, dancer, storyteller, and soon-to-be music therapist. Yes, she plans to earn her masters in music therapy to further her mission to offer healing to the world through her music.